2016 Ford F-150 vs 2016 Ram 1500
Ford Press Release Highlights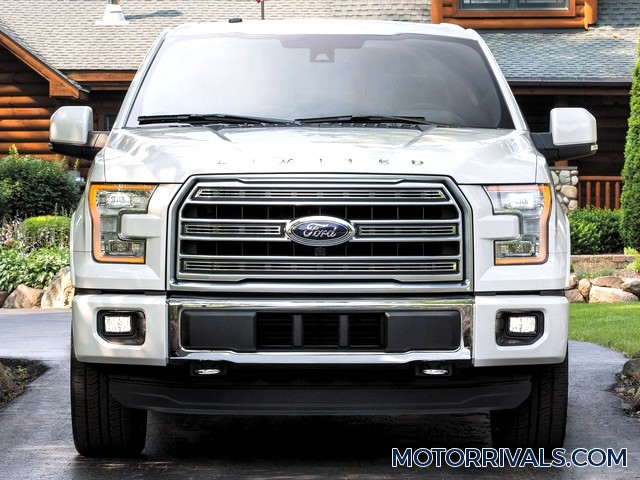 Photo Comparison
The 2015 Ford F-150 – the reinvention of America's favorite pickup – is winning early praise as it sets the standard for the future of tough, thanks to the all-new vehicle's impressive combination of power, capability and efficiency.
This month, the first of 10,000 dealer sales consultants began test driving the new truck in 26 cities nationwide. Performance driving and competitive towing exercises are underscoring the industry's best towing and payload capability among full-size pickups – the all-new F-150 can tow 12,200 pounds and haul 3,300 pounds.
Overall, the 2015 F-150 is the toughest, smartest, most capable F-150 ever. Regardless of model configuration or engine choice, every truck customer benefits from up to 700 pounds of weight savings the new truck delivers. The all-new F-150 can tow up to 1,100 more pounds, haul up to 530 more pounds and is projected to have fuel economy ratings in the range of at least 5 percent and as much as 20 percent better gas mileage than today's truck, depending on the model. (Specific gas mileage numbers for the entire lineup will be certified by the U.S. EPA, likely in November, and announced at that time.)
"Once again, Ford F-150 establishes new standards in durability, capability, technology and efficiency," said Joe Hinrichs, Ford president of The Americas. "We keep raising the bar on America's favorite truck to help F-150 owners be more productive 24/7 – whether for work or weekend fun."
Ram Press Release Highlights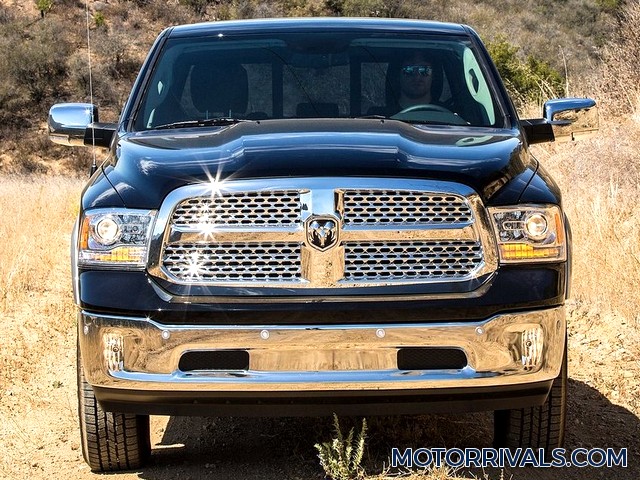 Photo Comparison
The 2015 Ram 1500 leads pickup truck fuel economy with winning powertrains: exclusive 3.0-liter V-6 EcoDiesel with 240 horsepower and 420 lb.-ft. of torque at 28 miles per gallon (mpg) and Pentastar 3.6-liter V-6 with 305 horsepower and best-in-class gasoline fuel economy of 25 mpg. Ram 1500 holds the top two spots in half-ton truck fuel economy, even beating small trucks.
The 3.0-liter EcoDiesel engine is mated to the TorqueFlite eight-speed automatic transmission. Together, the powertrain system delivers an outstanding combination of fuel efficiency at 28 mpg, unsurpassed torque of 420 lb.-ft. and up to 9,200 pounds of towing capability.
Ram Truck offers the best value in half-ton trucks with a starting price of $23,970, plus $1,195 destination and includes a standard 5.7-liter HEMI® V-8. The exclusive V-6 EcoDiesel with TorqueFlite eight-speed automatic transmission is priced $2,850 greater than a similarly equipped Ram 1500 with a 5.7-liter HEMI V-8 with Torqueflite eight-speed transmission.
The 2015 Ram 1500 capitalizes on a truckload of exclusive, pioneering, fuel-saving systems, including: eight-speed automatic transmission, stop-start system, thermal management system, pulse-width modulation and active aerodynamics with grille shutters and air suspension.
The Ram 1500 earned Motor Trend's Truck of the Year in 2013 and 2014, the first time a vehicle of any type has taken the coveted award back-to-back. The Ram 1500 also won the Truck of Texas in 2013 and 2014 – a rare double, back-to-back combination in the pickup segment.
Photo Comparison
Related Comparisons
Comments