2016 Hyundai Veloster vs 2016 Mini Cooper
Hyundai Press Release Highlights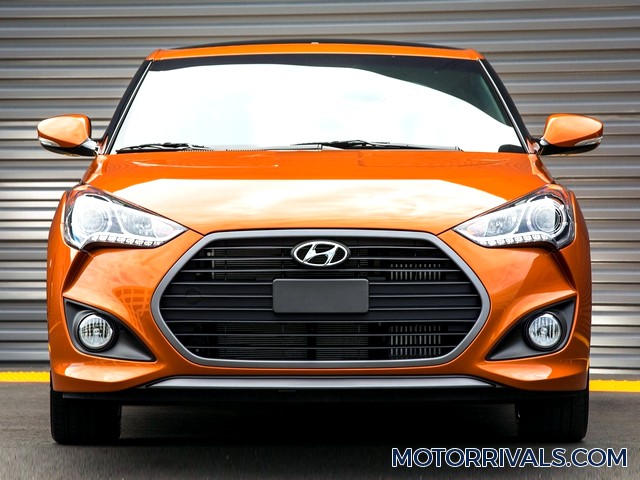 Photo Comparison
Hyundai unveiled a new Rally Edition, coupled with significant design, dynamic and connectivity enhancements to its Veloster coupe at the Chicago Auto Show today. The Veloster Rally Edition builds upon Veloster Turbo R-Spec enthusiast credentials, with a more performance-focused suspension, RAYS® lightweight wheels with wide 225/40R18 tires, carbon-fiber-look aero accents, unique badging and floor mats. The Rally Edition is a limited production run planned for 1,200 units, all in a stunning Matte Blue paint, guaranteeing exclusivity to its enthusiast owners.
The Gamma 1.6-liter four-cylinder engine is the smallest Hyundai engine to use direct injection. This technology helps deliver more power, superior efficiency, lower emissions and higher reliability.
With direct-injection, the Gamma 1.6-liter engine with manual transmission delivers a peak output of 132 horsepower at 6,300 rpm and maximum torque of 120 lb.-ft. at 4,850 rpm. The Gamma engine with dual-clutch transmission delivers 132 horsepower at 6,300 rpm and 120 lb.-ft. of torque at 4,850 rpm. The Gamma also features Dual Continuously Variable Valve Timing, an electronic throttle control, a roller timing chain, variable induction and innovative anti-friction coatings.
Hyundai's commitment to making the Gamma engine extremely fuel efficient continues by pairing it with a standard six-speed manual transmission or a six-speed EcoShift dual-clutch transmission (DCT) developed by Hyundai.
Veloster Turbo is paired with a standard six-speed manual transmission or a new for 2016 seven-speed dual clutch (DCT) automatic transmission. Both transmissions were developed in-house by Hyundai. The new Veloster Turbo seven-speed automatic transmission features steering wheel-mounted paddle-shifters and SHIFTRONIC® transmission gear control, and is more performance-tuned in comparison with the non-turbo model's DCT. This transmission was specifically engineered to handle the increased torque output from the turbocharged engine. The non-turbo Veloster's EcoShift DCT was tuned especially for fuel efficiency rather than the higher torque and performance calibration of the Veloster Turbo seven-speed DCT.
The heart of the Turbo R-Spec is the responsive, 1.6-liter, direct-injected, turbocharged engine, along with unique design cues and enhanced chassis tuning. Sport suspension and steering settings have been retuned for optimum responsiveness, with higher spring rates and a more rigid transmission mount. The Turbo R-Spec offers a 6-speed manual transmission with short-throw B&M Racing® Sport Shifter for a tighter, more direct shift feel.
The 1.6-liter turbocharged, direct-injected four-cylinder engine produces 201 horsepower at 6,000 rpm and 195 lb.-ft. of torque from 1,750 rpm. Veloster Turbo models feature Active Sound Design, which enhances intake and exhaust powertrain sound character inside the cabin for an even more involving driving experience. Turbo models generate 201 horsepower on regular fuel, which represents a best-in-class specific output of 125.6 horsepower per liter.
All Veloster Turbo models offer Torque Vectoring Control (TVC). This active cornering feature, utilizing capabilities from the Electronic Stability Control (ESC) and powertrain control systems, allows Veloster Turbo to improve dynamic cornering during more enthusiastic driving. TVC uses wheel speed sensors coupled with ESC algorithms to apply precise braking force to the inside front wheel during spirited cornering. This active braking redirects power to the outside front wheel in the turn, reducing wheelspin for enhanced cornering grip and corner-exit acceleration. Overall, this provides Veloster Turbo drivers with an incremental margin of cornering precision during enthusiastic driving.
Veloster and Veloster Turbo are fitted with a McPherson strut front suspension, coil springs, gas shock absorbers and a 23-mm diameter front stabilizer bar. The rear suspension is a light-weight V-torsion beam, with an integrated 24-mm stabilizer bar to allow bracing of the arms for greater rigidity and to further control body roll. The rear suspension also uses monotube shock absorbers for ride comfort with control.
All Velosters feature a rearview camera fitted to all models for superior parking visibility. Velosters have an exceptional level of standard safety features for the sporty coupe segment highlighted by a Vehicle Stability Management (VSM) system, which optimally manages ESC (Electronic Stability Control) and the Motor-Driven Power Steering (MDPS).
For 2016, Veloster audio/navigation systems have also been enhanced with the following capabilities and improvements:
Multi-touch screen with menu swipe function
HD Radio® capability
"Eyes Free" Apple Siri® integration for iPhone
Advanced SiriusXM® functions, including Travel Link (90-day trial)
On-board music and app storage (Jukebox 6GB and Apps 4GB)
Navigation map and music split-screen display function
Navigation map with enhanced junction-view lane guidance
Mini Press Release Highlights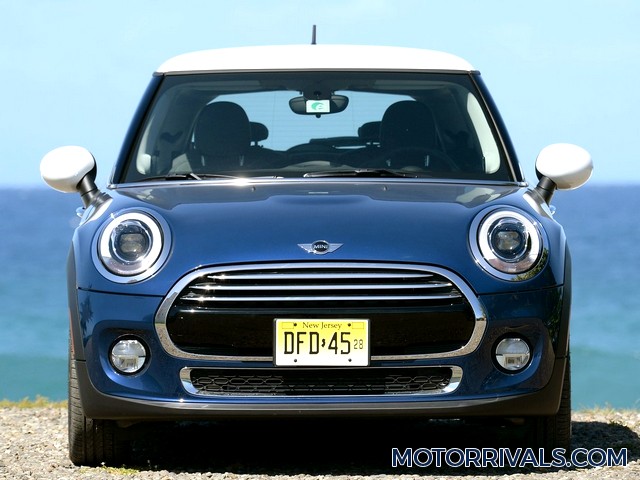 Photo Comparison
The new MINI Hardtop carries forward its predecessor's aspiration to remaining the leading original of the premium small car segment, underpinning its outstanding position with significant advancements in all areas relating to driving fun, quality and individual flair. The evolutionary refinement of its design signals the more mature character of the new model, reflected in a significant optimization of such aspects as space, safety, fittings, materials and finish quality as well as sportiness and ride comfort. The enhancement of product substance embodied in the new MINI Hardtop derives directly from the BMW Group's outstanding development expertise and takes on a more extensive form than ever before in the history of the brand. A new generation of engines increases driving fun and efficiency, and there is a wider selection of innovative driver assistance systems as well as MINI Connected infotainment facilities. LED headlamps and the MINI Head-Up Display are other highlights in the equipment program only previously found in higher vehicle segments, further underscoring the premium character of the new MINI.
Two newly developed power units featuring MINI TwinPower Turbo Technology are available to choose from at the market launch of the new MINI Hardtop in March 2014. The new MINI Cooper has a 3-cylinder engine with a peak output of 134 bhp. The 4-cylinder engine of the MINI Cooper S mobilizes 189 bhp. Another new feature: the standard 6-speed manual transmission, along with a 6-speed automatic transmission that is optionally available for all engine variants. Increased engine efficiency, extensive MINIMALISM technology, optimized weight and enhanced aerodynamic properties go together to produce a reduction in fuel consumption.
Classic MINI proportions, the characteristic three-way separation of body, all-round greenhouse and roof together with a new take on hallmark design features define the exterior of the new model, which has grown by some 4.5 inches in length. Its interior offers extended spatial comfort on all four seats as well as a luggage compartment volume expanded by 3 cubic feet to a total of 8.7 cubic feet.
A new display and operating concept combines the typical brand-style look and feel of the cockpit with optimized functionality. Road speed and engine speed along with other key driving-related information is shown in the newly designed instrument cluster on the steering column. The characteristic central instrument with an optional color display of up to 8.8 inches in size provides feedback on operations performed using the MINI Controller in the center console as well as giving visual feedback on driving condition and on numerous functions activated by the driver.
The new MINI Driving Modes allow an individual set-up involving not just the characteristic curve of the accelerator and steering but also engine acoustics, and in the MINI Cooper S – provided the relevant features are present - ambient lighting, the shift times of the automatic transmission and the characteristics of Dynamic Damper Control, the latter system being optionally available for the first time. The modes SPORT and GREEN can be activated in addition to the standard MID mode. In conjunction with an automatic transmission, the efficiency-oriented GREEN mode also features a coasting function with decoupled drivetrain.
The range of optional driver assistance systems has been significantly expanded. For the first time there is an extendible Head-Up Display above the steering column available for the new MINI, a Driving Assistant system including camera-based active cruise control, collision and pedestrian warning, high beam assistant and speed limit information, and also a parking assistant and a rear view camera.
Unique within the competitive environment, the MINI in-car infotainment program moves into a whole new dimension. Functions which can be integrated in the vehicle via apps in the areas of social networks and infotainment are now available for both the Apple iPhone and for smartphones using the operating system Android.
Photo Comparison
Related Comparisons
Comments