2016 Toyota Prius vs 2015 Toyota Prius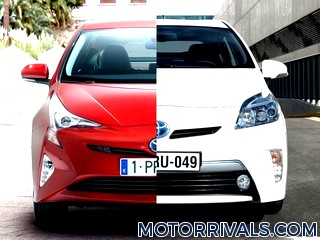 Photo Comparison
Press Release:
Nearly two decades before "disrupting" became a good thing to do, Toyota did it to the auto industry by launching the world's first mass production gasoline/electric hybrid vehicle, the Prius. After selling more than 3.5 million worldwide and helping steer the industry toward hybridization, Toyota is introducing another disruptor -- the all-new fourth-generation 2016 Prius liftback. The new version of this global green icon takes the hybrid concept farther than ever with striking design, with expected higher fuel economy ratings, and greater ride comfort. New levels of driving satisfaction and refinement will reward the Prius faithful and surprise those new to the movement.
"Modern." "Dramatic." "Emotional." Take your pick of adjectives to describe the new Prius' design. The shape may be familiar, but the new Prius is longer, lower and wider than its esteemed predecessors, to offer more interior room and provide a more planted stance for handling agility. Aerodynamic goals inspired the shape to help Prius score an increase in fuel economy ratings over the previous model.
The 2016 Prius is anticipating fuel economy ratings of 54 MPG city / 50 MPG highway / 52 MPG combined (Final EPA figures pending.). That's better than any mass-produced passenger vehicle available without a plug. And, as before, the Prius sips regular-grade gasoline. A new Eco grade model is expecting ratings of 58 MPG city / 53 MPG highway / 56 MPG combined thanks to lighter weight and further optimized aerodynamics.
The new Prius' premium interior debuts advanced technology complemented by features that are functional, fun and also delight the eyes. The wrap-around dash design, form-hugging seats, ease of controls and enhanced visibility combine to make the new Prius a highly engaging automobile. The new Prius interior is much quieter than the previous model, creating an ideal environment in which to enjoy Toyota Entune® multimedia and connectivity.
Safety is important, of course, and the 2016 Prius will be among the first U.S. models to offer Toyota Safety Sense P (TSS (P)), a new multi-feature advanced safety package anchored by automatic pre-collision braking. TSS bundles cutting edge safety technologies including Pre-Collision System with Pedestrian Detection; Lane Departure Alert with Steering Assist; Full-Speed Dynamic Radar Cruise Control, and Automatic High Beams.
"This Prius will invite new drivers into the category by delivering an impressive look and feel, built on the foundation of safety and eco-consciousness that define the vehicle's heritage," said Bill Fay, group vice president and general manager, Toyota Division.
Photo Comparison
Related Comparisons
Comments