2016 Honda Civic Coupe vs 2015 Kia Forte Koup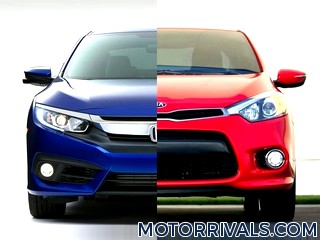 Photo Comparison
Honda Press Release:
The creation of this new 10th-generation Civic represents one of the most comprehensive and ambitious new-model developments ever undertaken by Honda, requiring an unprecedented commitment of R&D resources and Honda engineering prowess. While the development of the Civic Sedan was led by a North American team – a first for Honda and Civic – the overall Civic series involves design and engineering teams from Honda R&D, sales and manufacturing operations around the world, especially in North America and Japan, but also in Europe, South America and Asia.
In seeking to realize a "dynamic rejuvenation" of Civic and create a new interpretation "in a league of its own," as the development team defined its mission, Honda engineers set out early during platform development to benchmark the world's best C-segment vehicles—not only products in Civic's traditional competitive set, but luxury compact class vehicles such as well.
Their evaluation of the world's best products involved extensive real-world testing, ultimately targeting European luxury vehicles for the new Civic's ride, handling, steering and NVH (noise, vibration and harshness), and also its interior quality and refinement.
Achieving these lofty aims while meeting requirements for an affordable compact car, in terms of cost, fuel efficiency and manufacturability, stretched the limits of the global Civic team's engineering capability and demanded new thinking and new approaches to body construction, vehicle aerodynamics, powertrain and chassis design. The result of these efforts is a completely reimagined and reinvented new Civic, the sportiest Civic ever, and a new benchmark in the compact class in terms of spaciousness, fuel efficiency, safety features, interior quality and dynamic performance.
Photo Comparison
Related Comparisons
Comments