2017 Infiniti Q60 vs 2017 Mercedes-Benz C-Class Coupe
Press Release Highlights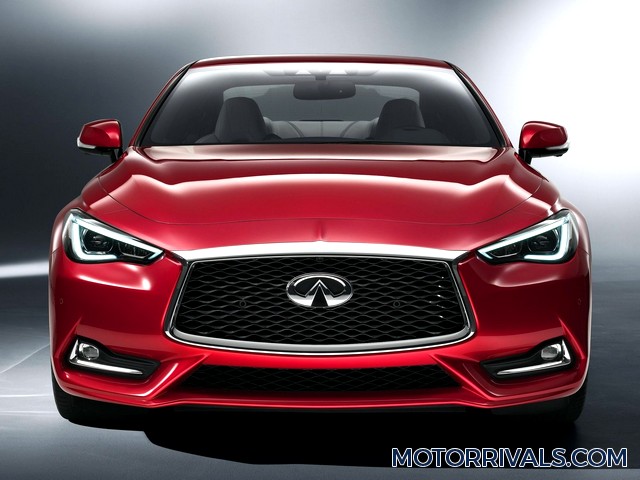 Photo Comparison
Making its world premiere at the 2016 North American International Auto Show, the new Infiniti Q60 is a premium sports coupe that combines expressive design with exhilarating performance and dynamics.
The Q60's bold exterior – lower and wider than predecessors – expresses a powerful elegance through its daring proportions and taut, muscular lines. Dynamic enhancements, including an all-new lightweight and sophisticated 3.0-liter V6 twin-turbo engine, together with new adaptive steering and digital suspension systems, result in a premium sports coupe designed and engineered to perform.
Powertrain
The high performance 3.0-liter V6 twin-turbo engine from the new and exclusive "VR" powertrain family is born out of the brand's extensive in-house experience of six-cylinder powertrain development. The new engine has been engineered to empower the driver and offer increased power and torque with high levels of efficiency. This new "VR30" engine comes in two power ratings: 300 horsepower or 400 horsepower, with the latter offering one of the best power-to-efficiency ratios in the premium sports coupe class. A four-cylinder 2.0-liter gasoline engine, turbocharged to produce 208 horsepower, is also available in the Q60.
Power is channeled through the Q60's rear wheels for optimal dynamic response and to benefit steering feel. The available rear-biased Intelligent All-Wheel Drive (AWD) system provides enhanced stability and road holding in low-grip conditions.
The Q60's seven-speed automatic transmission has been engineered with gear ratios spaced to allow for responsive, direct acceleration. Adaptive Shift Control (ASC) uses a lateral acceleration sensor to detect topographical changes in the road, such as hills or corners, and enhances gear selection patterns according to the changing conditions. ASC also allows the transmission to observe driving behaviors and adapt shifts to driver feedback.
Chassis
The Q60 has been engineered to deliver a truly engaging sports coupe experience, with a unique balance of ride comfort and agile handling. Complementing this position is Infiniti's new Dynamic Digital Suspension, which has been designed to offer best-in-class handling responses and agility, and enhanced ride comfort – thanks, in part, to a dedicated new set of dampers.
In addition, Infiniti's second-generation Direct Adaptive Steering offers high levels of steering feel and feedback, and the Drive Mode Selector gives drivers the option to personalize and tailor the steering's precise levels of response and feel to suit their own preferences.
Aerodynamic efficiency was a major consideration for Infiniti's design and engineering teams. The Q60's drag coefficient of 0.28 was made possible, in part, by the car's new design, intended to keep the vehicle stable at high speeds and in crosswind conditions.
An all-new electronic suspension system, Dynamic Digital Suspension, comes standard on the Q60 Sport grades and has been designed to offer best-in-class handling responses and agility, and enhanced ride comfort – thanks to software and hardware upgrades, including a dedicated new set of dampers. Drivers can change the focus of the suspension from a comfort-biased ride to one which offers more dynamic responses, by placing the electronically adjustable shock absorbers in either Sport or Sport+ modes (adjusted via the Drive Mode Selector), providing firmer damping control for more agile handling. While in these modes, the suspension is constantly adjusting to provide ideal performance and a level ride.
Technology
Making its world debut in a production vehicle, the Q60 will be fitted with an all-new 13-speaker, Bose® Performance Series sound system, a class-leading audio set-up which has been tailored to the acoustics of the Q60's cabin. Matched with Q60's noise cancelling technology, the fully-immersive Bose® audio system transforms the cabin into the driver's very own audio haven.
The Q60 comes standard with Infiniti's InTuition central control system, the latest generation of the company's advanced infotainment set-up. Upgraded with a faster processor than earlier editions of the technology, InTuition allows occupants to personalize the interior environment of the Q60 according to their preferences, with fully adjustable temperature, seating positions, audio-visual settings, navigation and more.
Safety
Infiniti's comprehensive approach to safety is evident throughout the Q60 premium sports coupe, instilling confidence in the driver and their passengers. The active and passive safety technologies include Around View® Monitor, Intelligent Cruise Control with Distance Control Assist, Forward Emergency Braking with pedestrian detection, Lane Departure Prevention, Blind Spot Intervention and Backup Collision Intervention.
Mercedes-Benz Press Release Highlights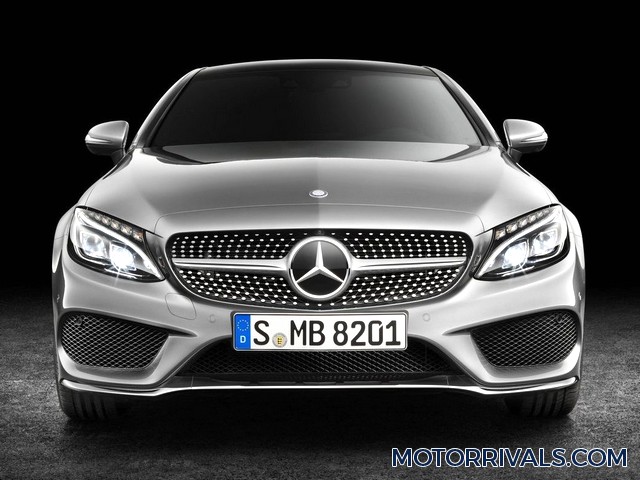 Photo Comparison
Athletic and sporty, the vivid, sensual design of the new C-Class Coupe cuts a fine figure on the road and embodies modern luxury. At the same time, its interior raises elegance and style to a sporty level. Lightweight construction to reduce weight, excellent aerodynamics, and a dynamically configured chassis, with optional air suspension, form the basis for a high level of suspension comfort, low road noise and tire vibration, agile handling, and driving pleasure. New assistance systems provide safety of the very highest caliber. With its high-class appeal and generous interior, the new C- Class Coupe sets new standards in its segment.
Chassis
The Coupe comes with the option of AIRMATIC air suspension on the front and rear axle. Its electronically controlled, continuously adjustable damping on the front and rear axle ensures outstanding road noise and tire vibration characteristics in every situation and gives the driver the option of selecting the desired driving style: sporty, comfortable or consumption-optimized. To this end, the driver can select one of five driving modes using the DYNAMIC SELECT Switch: "ECO", "Comfort", "Sport", "Sport +" and "Individual." Selecting "Individual" allows the driver to customize the vehicle settings. AIRMATIC also features all-round self-levelling for excellent ride comfort even with the vehicle loaded.
Powertrain
The C300 Coupe comes equipped with a powerful and efficient 2.0L, four- cylinder gas engine delivering 241 hp and 273 lb-ft of torque, providing sporty performance and enhanced driving pleasure.
Safety
There are several safety and assistance systems based on the Mercedes-Benz Intelligent Drive concept to choose from. ATTENTION ASSIST with adjustable sensitivity, which can warn the driver of inattentiveness and drowsiness, is included as standard. Further standard equipment includes COLLISION PREVENTION ASSIST PLUS, which features an acoustic warning for the driver at speeds above 4 mph and Adaptive Brake Assist to help avoid collisions by boosting the braking effect in line with the current situation. When danger of a collision persists and the driver fails to respond, the system is able to carry out autonomous braking at speeds of up to 124 mph, thereby reducing the severity of collisions with slower or stopping vehicles or, in the best-case scenario, even avoiding the collision altogether. At speeds of up to 31 mph the system also brakes in response to stationary vehicles, and is thus able to help prevent rear- end collisions.
Technology
A completely new multimedia generation offers intuitive operation in the new C-Class Coupe, featuring elaborate animations and visual effects which present all the functions in a clear and highly attractive manner. The new C-Class is also equipped with the unique Frontbass system. This avant-garde acoustic system uses the space within the cross-member and side member in the body structure as a resonance chamber for the bass speakers to conjure up a listening experience almost on a par with a concert hall. A Burmester® surround sound system is optionally available.
Photo Comparison
Related Comparisons
Comments