2011 Hyundai Genesis Coupe vs 2011 Honda Accord Coupe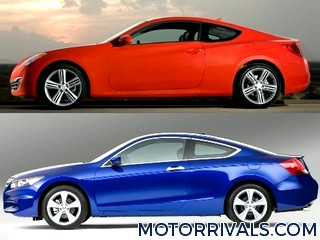 Photo Comparison
If you're looking for an affordable coupe these days, you have a variety of options. If you want something small and cheap, Honda, Kia, Mitsubishi, and Scion have got you covered with their Civic, Forte, Eclipse, and tC. If you're into muscle cars, there's three wonderful choices available now that the muscle car revival is in full swing. But if you want something more comfortable that can still raise your heartbeat a little there's the Honda Accord and Hyundai Genesis (along with the Nissan Altima).
The Accord gets revised for the 2011 model year with a new front bumper, headlights and taillights. Honda could've left well enough alone but since every model needs a mid-cycle update to stay fresh and competitive, they've played with the design. The changes are modest and might be unnoticed by some but they're enough to be mentioned. Before the revision, the Accord Coupe looked nearly flawless. There was no angle where it didn't look good. But the 2011 model gets unnecessary design elements like the extruding taillights and more bars in the grilles. They've tweaked it ever so slightly that it messes the flow of the design. It still looks good but not as good as before and not as good as it could have.
The Genesis doesn't get compared much to the Accord. On paper though, the Accord Coupe and Genesis Coupe are evenly matched. They're priced about the same, have the same performance, and both come well-equipped if your option them out right. The one key difference separating them is rear-wheel-drive for the Genesis versus front-wheel-drive for the Accord.
Hyundai has made it clear who their target audience is for the Genesis Coupe. The base model comes ready to be modified by aftermarket tuners with a turbocharged 2.0-liter inline-four but if the aftermarket isn't your thing, a 306 horsepower, 3.8-liter V6 is available. The chassis is more than just a shortened version of the Genesis sedan and visually, they share no similarities. With all things considered, the Genesis is more sports car than coupe but maintains a good level of refinement inside.
The Accord makes more sense on a day-to-day basis. There's more room inside, more comfortable on the roads, and fairly practical with more space in the trunk. The 2.4-liter inline-four engine would probably be enough for most people but Honda has stuffed a 271 horsepower, 3.5-liter V6 in as well. This is where things get interesting and the Accord and Genesis start to become rivals.
Despite a 35 horsepower deficit, the Accord Coupe will easily keep up with the sportier Genesis and is one of the fastest FWD coupes available. They both hit 60 in about 5.5 seconds and go on to a quarter-mile in the low 14s. Despite being front-wheel-drive, the Accord Coupe can also handle fairly well around corners. It's only when you really push both the Accord and Genesis on a track that you'll begin to notice the FWD disadvantage. But that disadvantage becomes advantageous for the average driver once you get on the main roads and it starts to rain or snow.
Even though both seem to similar on paper, they have two different personalities. The Accord has grown up (and grown bigger) over the years and doesn't possess that delinquent inner-being that some of its rivals have. Sitting next to a Genesis, it looks more mature and sophisticated. There's no line out of place and nothing to cause controversy. The Genesis however, still gives the boy-racer in you what he wants: swoopy styling, sporty curves, and a fastback body. So deciding between the Accord and Genesis is all a matter of how mature you are (or think you are).
Photo Comparison
Related Comparisons
Comments