2017 Ford GT vs 2016 Ferrari 488 GTB
Ford GT Press Release Highlights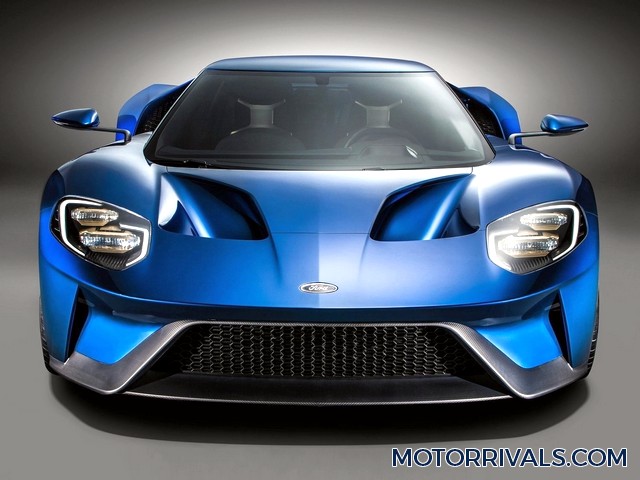 Photo Comparison
Ford unveiled the all-new GT, an ultra-high-performance supercar that serves as a technology showcase for top EcoBoost® performance, aerodynamics and lightweight carbon fiber construction.
The GT is one of more than 12 new Ford Performance vehicles coming by 2020. It joins Focus RS, F-150 Raptor, Shelby GT350 and Shelby GT350R in the growing Ford Performance lineup.

Beginning production late next year, the GT hits the road in select global markets to celebrate the 50th anniversary of Ford GT race cars placing 1-2-3 at the 1966 24 Hours of Le Mans.

The all-new GT supercar features rear-wheel drive, a mid-mounted engine, and a sleek, aerodynamic, two-door coupe body shell. It is propelled by the most powerful EcoBoost production engine ever – a next-generation twin-turbocharged EcoBoost V6 producing more than 600 horsepower.

The GT makes extensive use of lightweight materials, including carbon fiber and aluminum – enabling outstanding acceleration and handling with improved efficiency.

Ford's commitment to and capability in delivering technologies typically offered only in elite vehicles is evident in the GT. These include advanced active aerodynamics, such as a deployable rear spoiler, and a host of material and technology innovations to help better serve the driver, such as SYNC® 3 – the latest version of Ford's advanced connectivity system.

Carbon fiber innovation
Few innovations provide a more wide-ranging performance and efficiency advantage than reducing weight. All factors of a vehicle's capabilities – acceleration, handling, braking, safety, efficiency – can improve through the use of advanced, lighter materials.

The all-new GT features advanced lightweight composites, which will help serve Ford's entire product lineup moving forward. With the broad application of structural carbon fiber elements, the GT will exhibit one of the best power-to-weight ratios of any production car.

Anchored by a carbon fiber passenger cell, the GT features aluminum front and rear subframes encapsulated in structural carbon fiber body panels. Carbon fiber is one of the world's strongest materials for its mass – enabling an ultra-stiff foundation for chassis components, while creating a lighter overall package for increased dynamic performance and efficiency.

Most powerful production EcoBoost ever
Based on the same race-proven engine architecture serving Ford's IMSA Daytona Prototype endurance racing efforts, the next-generation twin-turbocharged 3.5-liter EcoBoost V6 in the GT features a wide powerband with impressive time-to-torque characteristics.

The GT features an all-new, port/direct dual fuel-injection setup to improve engine response, plus a low-friction roller-finger-follower valvetrain. The twin-turbocharged EcoBoost V6 will be paired with a seven-speed dual-clutch transaxle for near-instantaneous gear changes and exceptional driver control.

Aero innovation gets active
Aerodynamic efficiency is at the heart of the GT design, actively reducing drag while aiding downforce and stability.

From its optimum tear-drop shape to its aircraft-inspired fuselage and visibility-enhancing curved windshield, every slope and shape is designed to minimize drag and optimize downforce.

Although each surface on the GT is functionally crafted to manage airflow, it also features fully active aerodynamic components to improve braking, handling and stability.

An active rear spoiler is keyed to both speed and driver input, reactively deploying and adjusting its height and/or pitch angle depending on conditions.

The state-of-the-art chassis is suspended by an active racing-style torsion bar and pushrod suspension, with adjustable ride height. The 20-inch wheels are shod with Michelin Pilot Super Sport Cup 2 tires featuring a unique compound and structure designed specifically for the Ford GT. Multi-spoke wheels encircle carbon-ceramic brake discs at all four corners.

An F1-style steering wheel integrates all necessary driver controls, creating a stalkless steering column that allows uncluttered access to the transmission paddle-shift controls. A fully digital and configurable instrument cluster provides a wealth of driver-focused data. The display is configurable for multiple driving environments and different driving modes.
Ferrari 488 GTB Press Release Highlights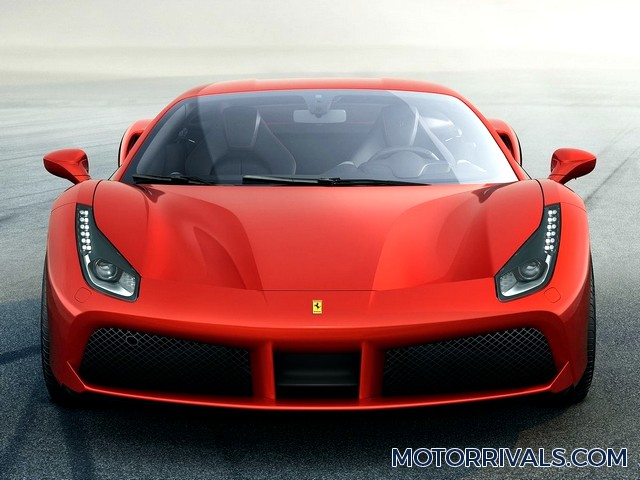 Photo Comparison
Forty years on from the unveiling of its first ever mid-rear-engined V8 model, the 308 GTB, the Prancing Horse opens a new chapter in its 8-cylinder history. The Ferrari 488 GTB provides track-level performance that can be enjoyed to the full even by non-professional drivers in everyday use. Its response times, nimbleness and on-the-limit driving guarantee a unique sense of exhilaration and unparalleled driving pleasure.
The new berlinetta brilliantly encapsulates Ferrari's experience in both F1 and the WEC, where the 458 GT holds the World Championship title and has won its category in the last two editions of the 24 Hours of Le Mans. The new model also exploits to the full the know-how gleaned by Ferrari technicians over the last decade through the XX programme which makes extreme track-only cars available to gentleman test-drivers. The data yielded has made a significant contribution to the refinement of the electronic and vehicle control systems so that drivers can make the most of the incredible performance of this new car.

Powertrain
The Ferrari 488 GTB's new 3902 cc V8 turbo is at top of the class for power output, torque and response times, making it the new benchmark for this kind of architecture. The engine unleashes 670 cv at 8,000 rpm along with 760 Nm of maximum torque in seventh gear and a response time to the accelerator of just 0.8 seconds at 2,000 rpm. These figures are sufficient to allow the 488 GTB to accelerate from 0-200 km/h in an astonishing 8.3 seconds and, when combined with the radical innovations introduced on all aspects of the car's performance, lap the Fiorano track in just 1'23".
The gearbox features Variable Torque Management which unleashes the engine's massive torque smoothly and powerfully right across the rev range, while specific gear ratios deliver incredibly progressive acceleration when the driver floors the throttle. As is always the case, engineers have dedicated great attention to perfecting the Ferrari 488 GTB's sound, creating a new soundtrack that is full, clear and totally distinctive, as expected from any Prancing Horse engine.
Aerodynamics
The car's aerodynamics also made a pivotal contribution to performance: its 1.67 efficiency figure is a new record for a production Ferrari and is the fruit of 50 per cent more downforce than the previous model and reduced drag. The greatest challenge was achieving these two goals simultaneously. Several innovative elements were specifically developed to do so, not least a double front spoiler, base bleed side intakes and, at the rear, active aerodynamics coupled with a blown spoiler. The aerodynamic underbody, which incorporates vortex generators, is highly sophisticated, too.

Vehicle dynamics
The Ferrari 488 GTB's subsystems and electronic controls make its power and performance instantly available and controllable. It is, in fact, the most responsive production model there is, with razor-sharp response times comparable to those of a track car.

The evolved version of Ferrari's side slip angle control system (Side Slip Control 2 – SSC2), is more precise and less invasive, providing greater longitudinal acceleration out of corners. Aside from integrating with car's F1-Trac and E-Diff, the SSC2 now also controls the active dampers which renders the car's dynamic behaviour during complex manoeuvres even flatter and more stable.
Ferrari 488 GTB
Technical specifications
ENGINE
Type V8 – 90° Turbo
Overall displacement 3902 cm3
Maximum power * 492 kW (670 CV) at 8000 rpm
Maximum torque * 760 Nm at 3000 rpm in VII gear

DIMENSIONS AND WEIGHT
Length 4568 mm
Width 1952 mm
Height 1213 mm
Dry weight** 1370 kg
Weight distribution 41.5% Front – 58.5% Rear
PERFORMANCE
0-60 mph 3.0 s (estimated)
0 -124 mph 8.3 s (estimated)
Maximum speed > 205 mph
FUEL CONSUMPTION***
20.6 mpg (estimated)
Photo Comparison
Related Comparisons
Comments