2015 Lamborghini Huracan vs 2015 Audi R8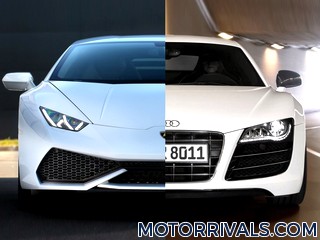 Photo Comparison
Press Release:
Automobili Lamborghini is taking a major step into the future: with the newly developed Huracán LP 610-4, the successor to the highly successful Gallardo, the Italian super sports car manufacturer is redefining the benchmark in the segment. With its pure and absolute design, breathtaking dynamics and excellent quality, the Huracán delivers an unparalleled sports car experience. It unites mighty performance with a character perfectly suited to everyday use; its wide-ranging new technologies work together in a fully integrated fashion. Stephan Winkelmann, President and CEO of Automobili Lamborghini said: "With the Huracán, Lamborghini is writing the next chapter in its great history."
With 14,022 units produced, the Gallardo is the most successful Lamborghini model ever made. During its ten-year production run, it took the brand into a completely new dimension. In true Lamborghini tradition, the successor to the Gallardo also takes its name from the world of bullfighting: Huracán was a fighting bull of the Spanish Conte de la Patilla breed who fought in August 1879 in Alicante. His unyielding character made him invincible.
With the Huracán LP 610-4, Lamborghini is taking its purist, unmistakable design language to a whole new evolutionary level. The design is bold and edgy, with beautifully sculptural forms. The starting point of the design process was the Huracán's silhouette. The objective was to define the car with a single line stretching from the front end over the passenger cell to the rear. The side windows take on a hexagonal form that looks like a gem set into the profile of the Huracán. At night, too, it is utterly unmistakable: All lights, including the main headlamps, beam in LED technology – an absolute first in the super sports car segment.
An innovative cockpit dominates the interior. The 12.3-inch TFT display can be configured in a number of different modes and provides the driver with all key information in a virtual format. The slender lines of the instrument mounts and the center tunnel are indicative of the lightness of the interior design. Fine materials distinguish the interior, which can be extensively individualized, while the extremely detailed craftsmanship delivers a highly refined sense of quality.
The newly conceived hybrid chassis of the Huracán LP 610-4 is a technical work of art that unites carbon-fiber and aluminum components. The ultra-light chassis forms the basis for the vehicle's low dry weight of 1,422 kilograms; with its excellent stiffness, it guarantees the handling precision of a racing car.
Photo Comparison
Related Comparisons
Comments