2016 McLaren 675LT vs 2016 Ferrari 488 GTB
McLaren Press Release Highlights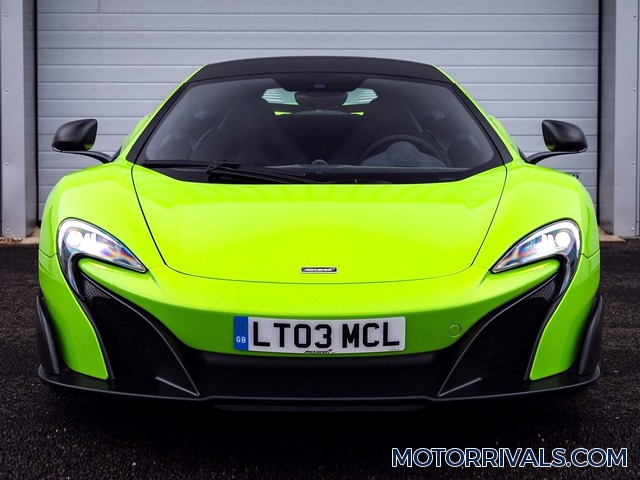 Photo Comparison
The McLaren 675LT is the lightest, most powerful, fastest and most track-focused, yet road legal, model in the McLaren Super Series. The main focus for the McLaren 675LT is clear: to deliver maximum performance, engagement and excitement. New carbon fiber bodywork minimizes weight and optimizes aerodynamic performance. 'LT' is now the ultra high-performance brand, re-establishing the McLaren 'Longtail' heritage. As the first model to wear the iconic badge, the 675LT embodies the 'Longtail' ethos, with a focus on light weight, optimized aerodynamics, increased power, track-focused dynamics and driver engagement. All cars will be hand built. The McLaren 675LT is offered as a coupe only, and limited to only 500 examples worldwide. Priced at £259,500, all have now been sold.

Powertrain
• M838TL 3.8-litre twin-turbocharged V8 engine: 675PS (666bhp) at 7,100rpm, 700Nm (516 lb ft) at 5,500-6,500rpm torque.
• Power-to-weight ratio of 549PS per ton
• 0-100 km/h (0-62mph) in 2.9 seconds
• 0-200 km/h (124mph) in 7.9 seconds
• Top speed of 330 km/h (205 mph)
• 24.2 mpg (11.7 l/100 km) on the EU combined cycle
• More than 50 percent of parts are unique to the 3.8-litre twin turbo V8 engine in the 675LT -upgrades include new, more efficient turbos, detail design changes to the cylinder heads and exhaust manifolds, new camshaft and lightweight connecting rods, and a faster-flowing fuel pump and delivery system.
• Seven-speed SSG transmission found in the other Super Series models
• Normal, Sport or Track modes
• Newly developed Ignition Cut technology is a technique adopted from Formula 1™ which sees a momentary cut of the fuel spark on gearshift
• Innovative Inertia Push technology - harnesses the built up kinetic energy to deliver an impulse of torque as the next gear is engaged
Chassis
• Dry weight of just 1,230kg (2,712 lb)
• The signature material of McLaren is carbon fiber: Front bumper including larger front splitter and Formula 1™-style end-plates; Front under body; Side skirts; Side air intakes; Rear body side lower panel; Rear fenders; Rear deck; Rear bumper; Rear diffuser; 'Longtail' Airbrake
• Active rear Airbrake - operates to increase downforce and optimize braking performance
• In 'Sport' and 'Track' modes, the 'Longtail' Airbrake operates with a greater level of functionality providing increased levels of stability, deploying whenever the car senses extra downforce is required
• Carbon fiber MonoCell - weighs just 75kg, yet is 25 percent stiffer than a comparable aluminum chassis
• Front and rear aluminum extrusions and castings are designed to absorb impacts and are easily fixed
• McLaren P1™-derived suspension components
• All-new Electronic Stability Control (ESC) calibration
• Brake Steer - aids cornering by bringing the vehicle's nose into the apex by applying braking force to the inside rear wheel, enabling the driver to brake later and get on the power earlier.
• New springs front and rear are lighter than previously used, and are the stiffest in the Super Series
• Uprights and wishbones derived from the McLaren P1™. This newly-developed suspension geometry is derived from Formula 1™
• Latest generation ProActive Chassis Control - includes active damping
• Dampers are connected hydraulically and linked to a gas-filled accumulator. The system does away with conventional mechanical anti-roll bars, and reduces weight as a result.
• Wishbone suspension is used on all four corners
• Wheels are 19inch x 8.5inch at the front and 20inch x 11inch at the rear
• High performance Pirelli P Zero™ Trofeo R tires. Pirelli P Zero™ tires are offered as a no-cost option.
• The Club Sport Pack includes a titanium roll hoop with four point harnesses and a fire extinguisher. The use of titanium halves the weight of a conventional steel hoop, and this is the first time that the material has been used for a roll hoop in the automotive industry.
• The Club Sport Professional Pack includes the items in the Club Sport Pack, and adds further track-dedicated and styling elements to give the 675LT an even more aggressive and purposeful look.
• Carbon ceramic brakes are fitted as standard, 394mm at the front and 380mm at the rear - working in conjunction with the active 'Longtail' Airbrake, can bring the 675LT to a standstill from 100 km/h (62 mph) in 30.2 meters, or just 3.0 seconds.
Technology
• Heating and ventilation (HVAC) is now controlled via the centrally-mounted touchscreen IRIS screen
• The air conditioning unit is removed, saving 11kg, but can be specified as a no-cost option.
• Carbon fiber is used extensively in the cabin, including the steering wheel clasp, gearshift paddles, lower center console and HVAC shroud
• Standard features include satellite navigation, DAB Digital radio (SIRIUS satellite radio in North America), and a lightweight four-speaker system from audio specialist Meridian.
• Innovative touchscreen IRIS infotainment system simplifies vehicle commands, reducing the number of switches and buttons in the driver zone - set up in portrait, rather than landscape
• McLaren Track Telemetry (MTT) – standard - provides real-time information, including lap time, sector splits, lap deltas and comparisons between other users. Post-drive analysis is also available with GPS-based track mapping, lap timing and data-logging with graphical plots of vehicle speed and lap time deltas.
• As an option, three cameras can be specified which work in conjunction with the data-logging, recording each lap to allow for additional analysis. The cameras are mounted in the front and rear bumpers, and one in the cabin facing forward over the driver's shoulder.
• Convenience options can be specified - vehicle lift system and an electric steering column, heated and electric seats, and with a memory function.

Ferrari Press Release Highlights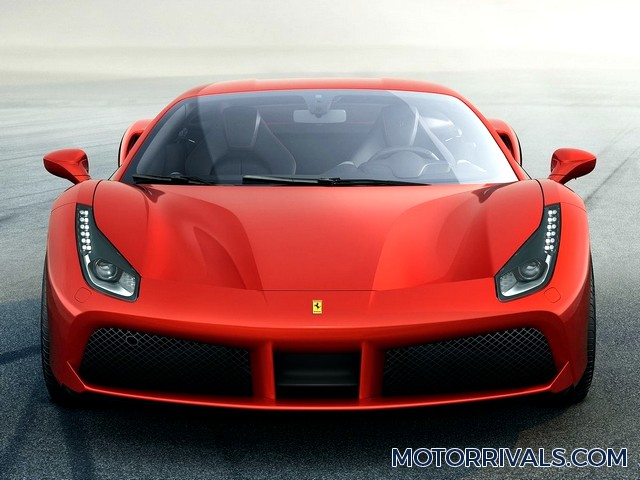 Photo Comparison
The Ferrari 488 GTB name marks a return to the classic Ferrari model designation with the 488 in its moniker indicating the engine's unitary displacement, while the GTB stands for Gran Turismo Berlinetta. The 488 GTB provides track-level performance that can be enjoyed to the full even by non-professional drivers in everyday use. Designed by the Ferrari Styling Centre, the new car features very sculptural flanks. Its large signature air intake scallop is a nod to the original 308 GTB and is divided into two sections by a splitter. The wide front spoiler features a double profile to improve the thermal efficiency of the radiators positioned at the sides.
Powertrain
• New 90° V8 turbo
• Overall displacement 3902 cm3
• Maximum power: 492 kW (670 CV) @ 8000 rpm
• Maximum torque: 760 Nm at 3000 rpm in VII gear
• The gearbox features Variable Torque Management
• Fiorano track lap time - 1'23"
• 0-100 km/h: 3.0 s
• 0-200 km/h: 8.3 s
• Maximum speed: > 330 km/h
• FUEL CONSUMPTION: 11.4 l/100 km
• C02 EMISSIONS: 260 g/km
• Throttle response time of just 0.8 seconds at 2000 rpm in third gear
• New specially-shaped high-tumble intake ports combined with 200-bar direct fuel injection.
• The new V8 also has an ion-sensing system which measures ionising currents to control ignition timing and adaptively predict misfires, as well as a multi-spark function.
• Mechanical efficiency is guaranteed by an oil pump that supplies oil either at high pressure or low pressure.
• Cylinder heads with roller finger followers reduce the power absorbed by the valvetrain by 10 per cent at low revs thanks to reduced friction.
• The use of flat-plane crankshaft architecture guarantees maximum compactness, lower mass and helps improve the engine's internal fluid-dynamics.
• The turbos are on ball-bearing-mounted shafts to reduce friction and the compressor wheels are in TiAl, a low-density titanium-aluminium alloy, which, thanks to its lower inertia, ensures maximum spool-up speed.
• In addition, twin-scroll technology directs the exhaust gases from each cylinder through separate scrolls and increases the efficiency of the exhaust pulses for maximum power.
• Variable Torque Management delivers increasing amounts of torque up through the gears
Chassis
• Length: 4568 mm
• Width: 1952 mm
• Height: 1213 mm
• Dry weight: 1370 kg
• Weight distribution: 46.5% Front - 53.5% Rear
• Side Slip Control 2 - SSC2 - more precise and less invasive, providing greater longitudinal acceleration out of corners. Now also controls the active dampers which renders the car's dynamic behaviour during complex manoeuvres even flatter and more stable. Analyzes various parameters to boost longitudinal acceleration out of corners by 12 per cent (in the Race and CT Off Manettino positions).
• SCM 3 magnetorheological damping system - has a faster ECU to modify the magnetic field in the dampers, as well as three new sensors on the car body.
• Latest evolution of the ESP guarantees even more efficient ABS intervention in low-grip situations.
• Brembo Extreme Design braking system - stopping distances are 9 per cent shorter than the previous model. Derived from the LaFerrari, the brakes also have new callipers that allow optimal cooling under extreme driving. They also feature new materials that ensure they reach optimal operating temperature faster and are more durable.
• 50 percent more downforce than the previous model and reduced drag
• Aerodynamic underbody - incorporates vortex generators
• Large rear diffuser - has curved fences which optimise the expansion of the huge amount of air channelled under the car. Also features variable flap geometry controlled by a CPU, integrated with other vehicle control systems, which adjusts the balance between increased downforce (flaps closed) and drag reduction (flaps open).
• Ferrari-patented blown spoiler - air enters an intake at the base of the rear screen and exits via the bumper.
• The "Base Bleed" air intakes on the car's sides are divided by a central flap. The flow over the upper part of the flap, which is also used for the engine air intake, is deflected and exits from the tail area to reduce the drag caused by the low-pressure wake directly behind the car. The flow from the lower part of the flap goes to the intercoolers to cool the intake charge.
Technology
• In the cabin, the seamless integration of the new satellite control clusters
• Angled air vents and instrument panel
• Multifunctional steering wheel
• The graphics and interface of the infotainment screen have been completely redesigned
• Design of the car's new key takes its inspiration from the car's cylinder banks and allows keyless starts
Awards
• The Ferrari 488 GTB and Ferrari 458 Speciale A have both been voted "Best Sports Cars of 2015" by the readers of the German automotive magazine, Sport Auto
• Golden Steering Wheel Award in the Sports car category from the Polish edition of Auto Bild, Auto Swiat
• Winner of the Supercars category of The Sunday Times Top 100 Cars
• 'Best Luxury Super Sports Car' award at the 2015 EXCS International Luxury Motor Show
• 'China Performance Car of the Year' - rewarded by the media of China
• Best Supercar at the Wheels "Car of the Year Awards"

Photo Comparison
Related Comparisons
Comments