2011 Mercedes-Benz CL-Class vs 2011 Aston Martin DB9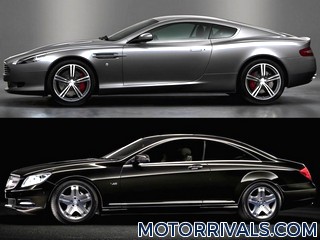 Photo Comparison
The Mercedes-Benz CL-Class walks a thin line between luxury coupe and supercar. On one hand, it's hardly flashy with toned down styling that'll probably go unnoticed by oblivious onlookers. On the other, it's capable of mind-blowing performance. Zero to sixty in a blazing 4.5 seconds and a quarter-mile of under 13 are what you get with a phenomenal 510 horsepower, 5.5-liter V12 engine. And that's not even an AMG engine. In terms of performance, it only lacks the handling and top speed capabilities of competitors but represents the epitome of Mercedes-Benz luxury with equipment from Mercedes' flagship sedan, the S-Class.
The Aston Martin DB9 though, is unmistakably an exotic car. The styling is stunning and proportions are classic sports car. One glimpse of it will make your heart fall in love before it's able to fly by you. Vehicles such as these are why we fall in love with cars.
Exterior revisions have been made to both the Mercedes-Benz CL-Class and Aston Martin DB9 for 2011. The CL-Class gets more revisions but both are still only modestly changed. The CL's headlights now curve upward while the grille gets sharper detailing. The Mercedes logo is still larger than life in case onlookers need a reminder of what they're looking at. Similar to the redesigned E-Class, LED's are placed in the lower air intakes which are also restyled with an AMG design influence. Overall, the CL looks sharper, more modern, and more aggressive than its predecessor which was slightly bland and soft in comparison.
Changes to the DB9 will probably go unnoticed by most. Aston Martin has already perfected the design and to change it drastically would be difficult. The DB9 receives a new bumper with slight restyling of the lower air intakes fitted with a mesh screen. Other changes aren't as noteworthy but probably aren't even necessary to update a timeless look.
The CL's shape isn't necessarily sporty and has more of a traditional coupe-shape although stretched to lengthy proportions. The CL is over a foot longer than the DB9 and also over 5 inches taller which caters more to luxury and comfort than performance and sportiness. The DB9's long, seductive shape utilizes perfect proportions of a sports car but sacrifices space and rear seat comfort. Buyers of each will definitely have different priorities.
The CL's rear gets modest restyling including revised taillights and exhaust pipes. Backup lights have now been separated from the taillight assembly and placed next to the license plate. Exhaust pipes also get a sportier redesign with a rectangular shape rather than oval like before.
The 2011 DB9 receives clear taillights like the Aston Martin V8 Vantage instead of the red ones shown above. New 20-inch wheels are fitted at each corner along with new side sills but the rest is left untouched.
The CL-Class includes every luxury feature in Mercedes' arsenal. An array of assists are added such as Active Lane-Keeping Assist, Active Blind Spot Assist, Adaptive High Beam Assist, and Night View Assist. The new assists take driving functions off the hands of the driver and into the car's responsibility. Cameras mounted in various locations of the interior (out of sight of course) can do anything from automatically adjusting the high-beams to keeping the car in its lane. A Driver Assistant Package increases the car's assistance even further including automatic emergency braking, warning drowsy drivers, and maintaining body control. The CL-Class is the next best thing to artificial intelligence. Entertainment is also second to none with Mercedes' COMAND system that allows for viewing two different things at once like navigation and a movie. Needless to say, features one would expect at this price level are included such as voice controlled navigation, a Harman Kardon surround sound system, and top class wood and leather finishes accented by ambient lighting.
The DB9 falls short on driving assists to the CL-Class but Aston Martin would probably have it no other way. The DB9 after all, is first and foremost a sports car and is meant to be driven with the driver's input, not the car's. Like the exterior, the interior design is classic with an elegantly-styled dashboard finished in leather and wood.
Photo Comparison
Related Comparisons
Comments