2016 Cadillac CTS vs 2017 Mercedes-Benz E-Class
Cadillac Press Release Highlights
Photo Comparison
The third-generation Cadillac CTS sedan is based on the high-performing rear-drive architecture of the award-winning ATS sport sedan, moving Cadillac into the prestigious class of midsize luxury sedans. It will be the segment's lightest car, enabling the most agile driving dynamics in the class. A range of power-dense powertrains underpin its performance, including the all-new Cadillac Twin-Turbo engine and eight-speed automatic transmission. A longer, lower and more athletic-looking proportion is introduced on Cadillac's landmark sedan and evolves the brand's Art & Science design philosophy.
Powertrain
• CTS Vsport - Twin-Turbo is SAE-certified at 420 horsepower (313 kW) and 430 lb.-ft. of torque (583 Nm)
• Approximately 90 percent of peak torque available from 2,500rpm to 5,500 rpm
• 0-60 mph in an estimated 4.6 seconds
• Naturally aspirated 3.6L V-6 rated at an estimated 321 horsepower
• New paddle-shift eight-speed automatic in rear-wheel-drive models
• Six-speed automatic with all-wheel drive
• 2.0L turbocharged engine rated at an estimated 272 horsepower and paired with a six-speed automatic.
Chassis
• Lower curb weight than the preceding model and weighs about 200 pounds (90 kg) less than the BMW 528i.
• Nearly 50/50 weight balance
• Magnetic Ride Control - Cadillac's real-time damping system, is available on base models.
• The CTS Vsport features:
o A quicker steering ratio
o Brembo disc brakes with aluminum calipers and high-performance brake pads,
o Heavy-duty track cooling package
o Driver-selectable track mode with specific steering rate and Magnetic Ride Control calibrations for greater track performance
o Electronic limited-slip differential that enhances capability on the track - including optimal acceleration out of turns.
• Suspension and driver control highlights also include:
o Multi-link MacPherson strut suspension with a double-pivot design
o Five-link independent rear suspension
o Available all-wheel-drive
o Premium electric, variable-assist power steering gear from ZF Steering Systems
o Available Magnetic Ride Control real-time damping system
o Choice of 17-, 18- and 19-inch aluminum wheels.
• A number of aluminum components are used with the suspension system, while the rear suspension is mostly steel.

Technology
• CUE, Cadillac's infotainment system - uses smartphone-influenced controls and commands to access information and entertainment data.
• Eight-inch, high-resolution color touch screen with haptic feedback allows users to swipe and drag preferences.
• Available 12.3-inch high-resolution, configurable LCD instrument cluster display complements the CUE display and supports the active safety features.
• Bluetooth connectivity with natural voice recognition is standard with CUE, along with USB and SD card ports.
• Cadillac's first 20-way adjustable front seats
• Motorized cup holder lid in the center console
• Heated and cooled (ventilated) front seats and heated steering wheel
• Electronically locking glove box
• Electronic park brake
• Adaptive remote start feature that also activates the climate control system
• Standard Bose eleven-speaker sound system and available Bose Centerpoint Surround Sound system with 13 speakers.
• Automatic Parking Assist - enables the car to park itself in parallel spaces.
• Ultrasonic rear park assist is standard.
• OnStar is standard for one year - can automatically call for help in the event of a crash. OnStar service also includes myCadillac and OnStar myCadillac mobile apps.
Safety
• Active safety features provide alerts and intervene when necessary to help avoid crashes.
• Ultrasonic sensors, as well as radar and cameras, support the CTS's advanced safety features to help prevent crashes.
• Front and Rear Automatic Braking - helps the driver prevent front and rear low-speed collisions via a progression of alerts that extend to complete braking, if necessary.
• Safety Alert Seat technology - uses vibrating pulses in the driver's seat to alert the driver to an imminent collision or to vehicles in the car's blind spot.
• Automatic safety belt tightening - automatically takes slack out of the safety belts when buckled and offers real-time, active adjustments during driving to ensure optimal tension and comfort.
• Full Speed Range Adaptive Cruise Control
• Panic Brake Assist
• Forward Collision Alert
• Automatic Collision Preparation (with brake prefill)
• Lane Departure Warning
• Side Blind Zone Alert
• Rear Cross Traffic Alert
• Rear Vision Camera With Dynamic Guidelines
• Adaptive Forward Lighting
• Active pedestrian protection system (in global regions where required).
• 10 standard air bags, including front-passenger dual-stage low-risk deployment
Mercedes-Benz Press Release Highlights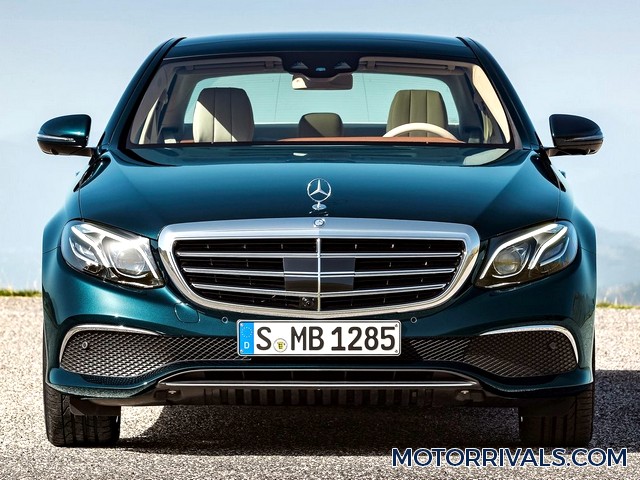 Photo Comparison
Mercedes-Benz is taking a big step into the future with the new E-Class. The tenth-generation of the E-Class sedan delivers stylish highlights with its distinct, emotional design and high-grade interior. The new E-Class also marks the world premiere of numerous technical innovations, enabling enhanced comfort, a new level of safe driving, a new dimension in driver assistance and a new infotainment and control system. A new, optionally available AIR BODY CONTROL air suspension ensures outstanding ride comfort and driving dynamics. The sum total of these innovations makes the E-Class the most intelligent sedan.
Powertrain
• Turbocharged 2.0-liter four-cylinder gasoline engine with 241 hp and 273 lb-ft of torque.
• Further model variants will be added to the range after the market launch.
• New 9G-TRONIC nine-speed automatic transmission as standard equipment.
Chassis
• Steel-spring suspension is standard.
• Two DIRECT CONTROL suspension systems with selective damping are available in conjunction with this suspension: DIRECT CONTROL Comfort suspension; DIRECT CONTROL Sport suspension
• AIR BODY CONTROL air suspension - multi-chamber air suspension at all corners. Features all-round self-leveling for excellent ride comfort even with the vehicle loaded. It automatically controls the ride height depending on the speed and reduces fuel consumption on the freeway, for example, by lowering the vehicle. When driving on rough roads, ground clearance can be increased at the push of a button.
• A DYNAMIC SELECT switch in the cockpit enables the driver to select from four AIR BODY CONTROL modes: "Comfort," "ECO," "Sport" and "Sport+."
Technology
• Remote Parking Pilot - allows the vehicle to be moved into and out of garages and parking spaces remotely using a smartphone app.
• Car-to-X communication - mobile phone-supported exchange of information with other vehicles further ahead on the road. Can effectively allow the driver to "see around corners" or "through obstacles" well in advance.
• Standard Frontbass system - delivers a unique listening experience, utilizing space in the cross-member and side member of the body structure as a resonance chamber for the bass speakers.
• Optionally available Burmester high-end 3D surround sound system with 23 speakers. It includes a third dimension of sound courtesy of roof speakers.

Safety
• Standard PRE-SAFE® Sound - emits a short interference signal through the vehicle's sound system if the risk of a collision is detected. This signal can trigger the natural reflex and thus prepare the occupants' ears for the expected sound of the accident.
• Standard Active Brake Assist - able to warn the driver of impending crash situations, provide just the right level of support during emergency braking and, if necessary, also apply the brakes automatically. In addition to slower-moving, stopping or stationary vehicles, it can also detect pedestrians crossing within the area ahead of the vehicle.
• Standard ATTENTION ASSIST - can warn the driver of inattentiveness and drowsiness
• Crosswind Assist - can assist the driver by substantially mitigating the effects of strong crosswinds to prevent the vehicle from drifting too far off track.
Optional Driver Assistance Package Plus includes:
• DRIVE PILOT
• Distance Pilot DISTRONIC - able to automatically maintain the selected distance from the vehicle in front. Can also follow the traffic in front at speeds of up to 130 mph.
• Steering Pilot – steering assistance even on moderate bends. Can continue to actively intervene by taking account of surrounding vehicles and parallel structures, even if the lines are unclear or nonexistent at speeds up to 81 mph.
• Active Lane- change Assist - assists the driver when changing lanes on multi-lane roads and can steer the vehicle into the lane selected by the driver. Once the driver has indicated a turn for at least two seconds, Active Lane-change Assist assists with steering into the adjacent lane if it detects that the lane is unoccupied.
• Active Brake Assist with cross-traffic function - can detect crossing traffic at junctions and, if the driver fails to respond, apply the brakes autonomously. Can also detect hazardous situations at the tail end of a traffic jam where there is no room to maneuver and initiate autonomous braking well in advance. Consequently, it is possible to completely avoid accidents at speeds up to 43 mph or substantially reduce the severity of accidents at speeds above this level.
• Evasive Steering Assist - can assist by adding precisely calculated steering torque to support the movement of the steering wheel.
• Active Lane Keeping Assist - can help stop the driver from unintentionally changing lanes
• Active Blind Spot Assist - can now also warn of the risk of a lateral collision in typical urban traffic at low speeds.
• PRE-SAFE® PLUS can also protect against collisions with traffic following behind, reducing whiplash and other adverse effects on the occupants.
• PRE-SAFE® impulse side - if a lateral collision has been detected and is imminent, it preventively moves the driver or front passenger away from the danger zone to the side.
Photo Comparison
2017 Mercedes-Benz E-Class
Related Comparisons
Comments