2017 Mercedes-Benz E-Class vs 2016 BMW 5 Series
Mercedes-Benz E-Class Press Release Highlights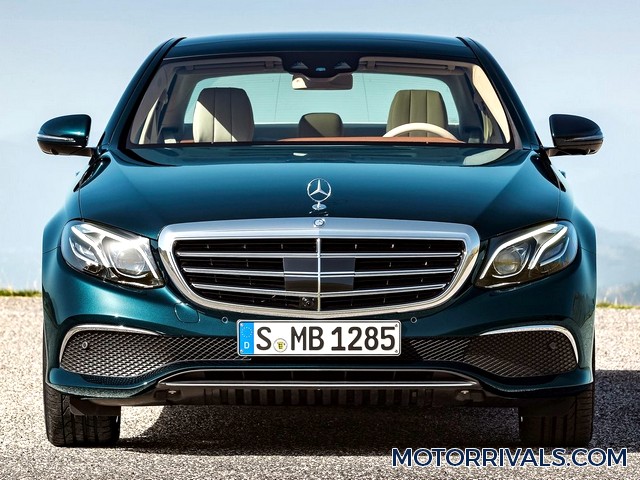 Photo Comparison
Mercedes-Benz is taking a big step into the future with the new E-Class. The tenth-generation of the E-Class sedan delivers stylish highlights with its distinct, emotional design and high-grade interior. The new E-Class also marks the world premiere of numerous technical innovations, enabling enhanced comfort, a new level of safe driving, a new dimension in driver assistance and a new infotainment and control system. A new, optionally available AIR BODY CONTROL air suspension ensures outstanding ride comfort and driving dynamics. The sum total of these innovations makes the E-Class the most intelligent sedan.
Powertrain
* Turbocharged 2.0-liter four-cylinder gasoline engine with 241 hp and 273 lb-ft of torque.
* Further model variants will be added to the range after the market launch.
* New 9G-TRONIC nine-speed automatic transmission as standard equipment.
Chassis
* Steel-spring suspension is standard.
* Two DIRECT CONTROL suspension systems with selective damping are available in conjunction with this suspension: DIRECT CONTROL Comfort suspension; DIRECT CONTROL Sport suspension
* AIR BODY CONTROL air suspension - multi-chamber air suspension at all corners. Features all-round self-leveling for excellent ride comfort even with the vehicle loaded. It automatically controls the ride height depending on the speed and reduces fuel consumption on the freeway, for example, by lowering the vehicle. When driving on rough roads, ground clearance can be increased at the push of a button.
* A DYNAMIC SELECT switch in the cockpit enables the driver to select from four AIR BODY CONTROL modes: "Comfort," "ECO," "Sport" and "Sport+."
Safety
* Standard PRE-SAFE* Sound - emits a short interference signal through the vehicle's sound system if the risk of a collision is detected. This signal can trigger the natural reflex and thus prepare the occupants' ears for the expected sound of the accident.
* Standard Active Brake Assist - able to warn the driver of impending crash situations, provide just the right level of support during emergency braking and, if necessary, also apply the brakes automatically. In addition to slower-moving, stopping or stationary vehicles, it can also detect pedestrians crossing within the area ahead of the vehicle.
* Standard ATTENTION ASSIST - can warn the driver of inattentiveness and drowsiness
* Crosswind Assist - can assist the driver by substantially mitigating the effects of strong crosswinds to prevent the vehicle from drifting too far off track.
Optional Driver Assistance Package Plus includes:
* DRIVE PILOT
* Distance Pilot DISTRONIC - able to automatically maintain the selected distance from the vehicle in front. Can also follow the traffic in front at speeds of up to 130 mph.
* Steering Pilot * steering assistance even on moderate bends. Can continue to actively intervene by taking account of surrounding vehicles and parallel structures, even if the lines are unclear or nonexistent at speeds up to 81 mph.
* Active Lane- change Assist - assists the driver when changing lanes on multi-lane roads and can steer the vehicle into the lane selected by the driver. Once the driver has indicated a turn for at least two seconds, Active Lane-change Assist assists with steering into the adjacent lane if it detects that the lane is unoccupied.
* Active Brake Assist with cross-traffic function - can detect crossing traffic at junctions and, if the driver fails to respond, apply the brakes autonomously. Can also detect hazardous situations at the tail end of a traffic jam where there is no room to maneuver and initiate autonomous braking well in advance. Consequently, it is possible to completely avoid accidents at speeds up to 43 mph or substantially reduce the severity of accidents at speeds above this level.
* Evasive Steering Assist - can assist by adding precisely calculated steering torque to support the movement of the steering wheel.
* Active Lane Keeping Assist - can help stop the driver from unintentionally changing lanes
* Active Blind Spot Assist - can now also warn of the risk of a lateral collision in typical urban traffic at low speeds.
* PRE-SAFE* PLUS can also protect against collisions with traffic following behind, reducing whiplash and other adverse effects on the occupants.
* PRE-SAFE* impulse side - if a lateral collision has been detected and is imminent, it preventively moves the driver or front passenger away from the danger zone to the side.
Technology
* Remote Parking Pilot - allows the vehicle to be moved into and out of garages and parking spaces remotely using a smartphone app.
* Car-to-X communication - mobile phone-supported exchange of information with other vehicles further ahead on the road. Can effectively allow the driver to "see around corners" or "through obstacles" well in advance.
* Standard Frontbass system - delivers a unique listening experience, utilizing space in the cross-member and side member of the body structure as a resonance chamber for the bass speakers.
* Optionally available Burmester high-end 3D surround sound system with 23 speakers. It includes a third dimension of sound courtesy of roof speakers.
BMW 5 Series Press Release Highlights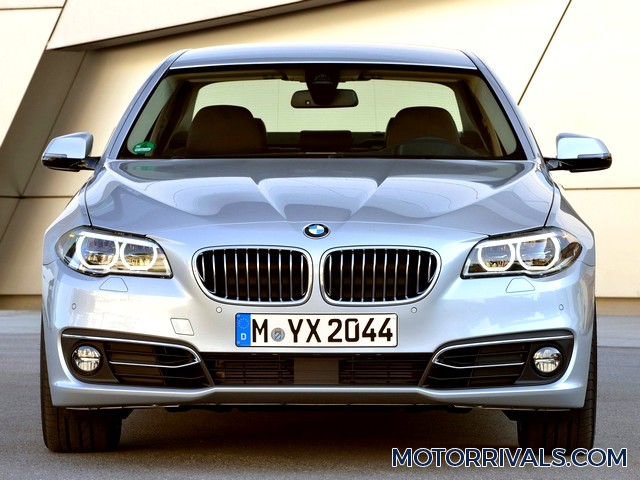 Photo Comparison
Athletic ability, efficiency, compulsive allure, and innovations designed to enhance the driving experience: the BMW 5 Series has always contained the signature ingredients of a best-selling BMW model. Consistently rising sales figures have fortified its position as a global leader in its class. Now, for the 2014 model year, another new chapter in this success story is poised to begin. Precise modifications to the design, the addition of a new inline-6 BMW Advanced Diesel engine for the Sedan, and even more of available equipment all raise the appeal of the BMW 5 Series family a notch higher.

MSRP for the 5 Series Sedan and 5 Series Gran Turismo:
* 528i Sedan: $50,425
* 550i xDrive Sedan: $67,125
* 528i xDrive Sedan: $52,725
* ActiveHybrid 5: $62,325
* 535i Sedan: $56,025
* 535i Gran Turismo: $60,925
* 535i xDrive Sedan: $58,325
* 535i xDrive Gran Turismo: $63,225
* 535d Sedan: $57,525
* 550i Gran Turismo: $68,825
* 535d xDrive Sedan: $59,825
* 550i xDrive Gran Turismo: $71,125
* 550i Sedan: $64,825Powertrain and Chassis.
Powertrain
* BMW 535d Sedan * new 3.0-liter diesel engine develops a maximum output of 255 HP, generates peak torque of 413 lb-ft.
* BMW 550i Sedan and BMW 550i Gran Turismo * 4.4-liter engine generates 445 horsepower and maximum torque of 480 lb-ft.
* BMW 550i Sedan: 0 to 60 mph in 4.5 seconds.
* BMW 535i Sedan and 535i Gran Turismo retain *N55* 3.0-liter inline-6 engine with 300 hp and 300 lb-ft of torque.
* BMW 528i Sedan - BMW TwinPower turbo *N20* four-cylinder gasoline engine is retained for the 2014.
* The BMW 535i Sedan can be fitted with a 6-speed manual transmission as a no cost option.
* All BMW 5 Series models receive the 8-speed automatic transmission provided as standard equipment.
* The Sport Automatic option, standard for the 2014 BMW 550i Sedan models, stands out with impressive shift dynamics and now includes Launch Control.
Chassis
* Double-wishbone front axle and the integral rear axle are made largely of aluminum.
* Standard equipment Driving Dynamics Control switch on the center console. Pressing the button changes the driving mode, altering the responses of the accelerator and steering
* Adaptive Drive system, which includes Active Roll Stabilization and Dynamic Damper Control. Electronically controlled anti-roll bars help to reduce the car*s body roll through quickly taken corners and in sudden changes of direction.
* Integral Active Steering adjusts the steering angle of the rear wheels.
Technology
* Optional Comfort Access system - allows the tailgate or trunk to be opened hands-free
* New rear-seat entertainment system with tablet-style displays
* Harman Kardon Surround Sound system
* Ambient light option with a facility which allows the interior lighting to be alternated in tone between orange and white.
* BMW ConnectedDrive - offers an extensive suite of office functions, including internet-based services. The dictation function, for example, provides a convenient way of entering text for SMS messages and emails during a journey. The array of search, travel, office and social media services can be accessed via the car*s integrated SIM card or the customer*s smartphone.
* The newly-standard iDrive4.2 Navigation system makes use of an optimized menu display and allows access to Advanced Real Time Traffic Information. A new iDrive rotary controller with an integrated touchpad allows the input of characters for destinations, phone numbers, and other functions within the iDrive4.2 operating system.

Photo Comparison
Related Comparisons
Comments