2016 Mercedes-Benz S-Class Coupe vs 2016 BMW 6 Series Coupe
Mercedes-Benz Press Release Highlights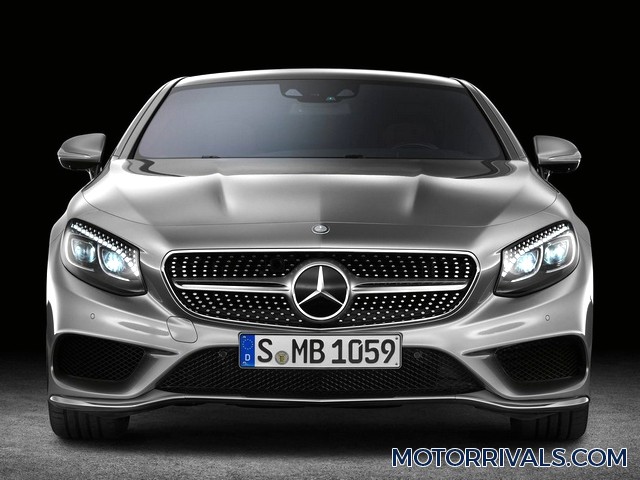 Photo Comparison
Stylistically self-assured presence, exclusive appointments and refined sportiness – the new S-Class Coupé from Mercedes-Benz combines the classic proportions of a large, sporty coupé with modern luxury and state-of-the art technology. Mercedes-Benz creates a bridge between modernity and the avant-garde, between tradition and progressivism. With a wheelbase of 2945 mm, the Coupé is 5027 mm long, with a width of 1899 mm and a height of 1411 mm. The S-Class Coupé features a panoramic roof extending over two-thirds of the entire vehicle roof. MAGIC SKY CONTROL makes it possible to switch the transparency of the roof at the push of a button, from light to dark. The S-Class Coupé model range previously comprised the S 500, the S 500 4MATIC and the three AMG models S 63, S 63 4MATIC and S 65. The S 400 4MATIC Coupé has now been added as the sixth model in the line-up.
Powertrain

• 4663 cc V8 biturbo engine - 335 kW (455 hp), 700 Nm torque.
• S400 4MATIC Coupé - V6 engine - 270 kW (367 hp), 500 Nm torque.
• 4MATIC all-wheel drive
• 7G-TRONIC PLUS automatic transmission
Chassis

• MAGIC BODY CONTROL - with the curve tilting function, the Coupé leans into bends in a manner similar to a motorcyclist or skier.
• Active Body Control (ABC) - the suspension struts are equipped with hydraulic cylinders (so-called plungers), in order to adjust the force in each strut individually.
• ROAD SURFACE SCAN functions
Technology

• DISTRONIC PLUS with Steering Assist and Stop&Go Pilot - able to follow vehicles in traffic tailbacks semi-autonomously.
• Optional Seat Comfort package - front seats feature the ENERGIZING massage function based on the hot-stone principle. Unique massage function with 14 separately actuated air cushions in the backrest, as well as an integrated warming function.
• Electric armrest heating as a component of the Warmth Comfort package
• Optional head-up display - brings important information directly into the driver's field of vision, presenting it on the windscreen to ensure less distraction from the traffic situation. The system informs about vehicle speed, speed limits, navigation instructions and driving assistance system messages.
• Two high-resolution TFT colour displays in 8:3 format with a screen diagonal of 30.7 cm (12.3 inches) form the new information centre in the S-Class. The left-hand display performs the functions of the previous instrument cluster, providing the driver with all relevant information. The right-hand display allows the convenient control of infotainment and comfort functions.
• Touch-sensitive telephone keypad
• Voice entry using LINGUATRONIC via the Speech Dialog System - allows complete addresses to be spoken in one go. The telephone and audio systems can also be voice-controlled. The option of having text messages (SMS) or emails read out is a new feature.
• AIR-BALANCE package comprises perfuming, ionisation and even more efficient filtration compared with the standard model. Perfume atomisation system individualises the smell of the vehicle interior.
• THERMOTRONIC automatic climate control in the rear has two additional zones to improve thermal comfort. Electric heating of the armrests is a completely new feature.
• A completely new multimedia generation with intuitive operation. Other innovations include the multi-user system, which allows independent access to the media sources of the entertainment system from any seat.
• Frontbass system - woofers are housed in the firewall, and use the almost 40-litre space in the cross-member and side member as a resonance chamber.
• Two high-quality audio systems are available: Burmester® Surround Sound system and the Burmester® High-End 3D‑Surround Sound system.
• Google Maps on the head unit - new Live Traffic Information service, traffic data are transmitted in real time.
Safety

• Brake Assist system BAS PLUS with Cross-Traffic Assist can help to avoid rear-end collisions and even collisions with crossing traffic.
• Active Lane Keeping Assist
• Adaptive High-beam Assist Plus
• Night View Assist Plus
• COLLISION PREVENTION ASSIST PLUS - provides collision protection from a speed of 7 km/h: can carry out an autonomous braking maneuver at speeds of up to 105 km/h. The system also brakes in response to stationary vehicles at a speed of up to 50 km/h, and is able to prevent rear-end collisions at up to 40 km/h.
• PRE-SAFE® Brake - can also detect pedestrians and initiate autonomous braking to avoid a collision at speeds up to 50 km/h.
• PRE-SAFE® PLUS - can recognise an imminent rear-end collision and warn the following traffic by activating the rear hazard warning lights at a high frequency. If the danger of a collision persists, the system can also firmly apply the stationary vehicle's brakes. Immediately before impact, the PRE-SAFE® anticipatory occupant protection measures, especially the reversible belt tensioners, are deployed.
• PRE-SAFE® Impulse - the driver and front passenger are pulled away from the direction of impact by their seat belts at an early phase of the crash before the resulting occupant deceleration sets in.
• Active Lane Keeping Assist can detect oncoming traffic and, when the adjacent lane is not clear, reduce the risk of the vehicle leaving its lane unintentionally by applying the brakes on one side.
• Adaptive Highbeam Assist Plus allows the high-beam headlamps to be kept on permanently without dazzling traffic by masking out other vehicles in the beams' cone of light.
• Night View Assist Plus - can alert the driver to the potential danger posed by pedestrians or animals in unlit areas in front of the vehicle.
• ATTENTION ASSIST - can warn of inattentiveness and drowsiness in an extended speed range and notify drivers of their current state of fatigue.
BMW Press Release Highlights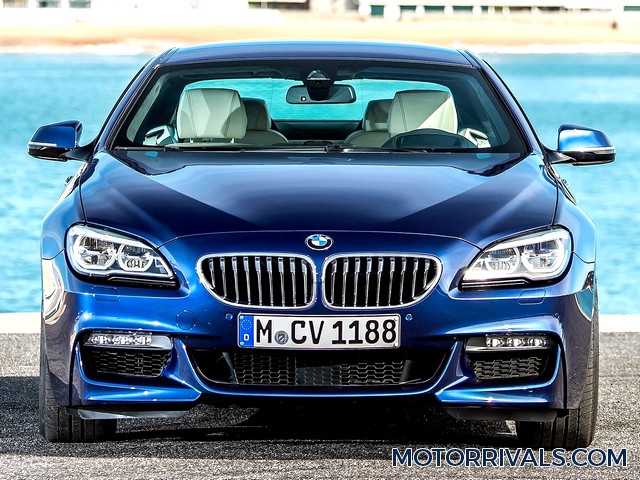 Photo Comparison
All the models in the new BMW 6-Series line-up stand out with an adeptly modified design that exudes powerful sports performance and, at the same time, emphasizes the exclusive elegance of these luxury cars. The signature interior design for the new BMW 6-Series Convertible, new BMW 6-Series Coupe and new BMW 6-Series Gran Coupe is dominated by the driver-focused cockpit, a front passenger area enveloped by elegantly sweeping surfaces and a seamless connection between the front seats and rear compartment - all of which makes it a recipe for exclusive comfort in a stylishly luxurious ambience. The new BMW 6-Series generates an intense form of driving pleasure regardless of the body variant specified and the engine fitted.

Powertrain

• 650i - V8 - 330 kW/450 hp
• 640i - I6 - 235 kW/320 hp
• M6 – V8 - 412 kW/560 hp
• All enjoy the benefits of the BMW TwinPower Turbo technology
• Standard with an eight-speed Steptronic sport transmission
• All new BMW 6-Series model variants can also be specified with the BMW xDrive intelligent all-wheel-drive system.
• BMW xDrive further improves the 0 to 100 km/h (62 mph) performance of all the 6-Series models.
• BMW 650i xDrive Coupe and BMW 650i xDrive Gran Coupe - 0 to 100 km/h (62 mph) in 4.4 seconds.
• Eight-speed Steptronic sport transmission also comes with a Launch Control function.
• BMW M6 Convertible (fuel consumption combined: 10.3 l/100 km [27.4 mpg imp]; CO2 emissions combined: 239 g/km)
• BMW M6 Coupe (fuel consumption combined: 9.9 l/100 km [28.5 mpg imp]; CO2 emissions combined: 232 g/km)
• BMW M6 Gran Coupe (fuel consumption combined: 9.9 l/100 km [28.5 mpg imp]; CO2 emissions combined: 232 g/km).

Chassis

• Optional Dynamic Damper Control - adapts its responses electronically to the situation at hand
• Optional Adaptive Drive system - includes active roll stabilisation - further enhances the driving qualities of the new BMW 6-Series models.
• Integral Active Steering - adjusts the steering angle of the rear wheels. This helps to reduce the amount of steering effort required, provides excellent agility in dynamic driving situations, ensures comfortable and assured responses when changing lanes and navigating through corners, and reduces the car's turning circle.

Technology

• Heated and electrically adjustable seats for the driver and front passenger (including memory function)
• Two-zone automatic climate control with extended features
• Electrically adjustable sports leather steering wheel with multifunction buttons
• Cruise control with braking function
• Electrically adjustable and heated exterior mirrors
• Professional radio, a hi-fi loudspeaker system and a hands-free facility with USB audio interface.
• iDrive operating system's Touch Controller has a touch-sensitive surface for inputting characters.
• Options such as a TV function, a Digital Audio Broadcasting (DAB) receiver, the Harman Kardon HiFi system and the Bang & Olufsen high-end surround-sound system.
• Standard ConnectedDrive navigation package, a hands-free facility with USB interface and a SIM card embedded in the car.
• Standard Intelligent Emergency Call system and BMW TeleServices
• Real Time Traffic Information for the navigation system.
• BMW Head-Up Display - projects relevant driving information onto the windscreen using a full spectrum of colour.
• Speed Limit Info including No Passing Info display and the Lane Departure Warning system (both options)
• Park Distance Control, rear view camera and Surround View options
• Parking Assistant (also optional) - helps the driver to identify and drive into parallel parking spaces.
• Adaptive LED Headlights with BMW Selective Beam (for optimized high beam use)
• Night Vision system with pedestrian and animal recognition.

Safety

• Driving Assistant Plus safety package - camera and radar-based driver assistance system
• Active Cruise Control system with Stop & Go function
• Lane Departure Warning system
• Pedestrian and Collision Warning system with Braking function - detects standing vehicles and vehicles travelling ahead and, at speeds up to 60 km/h (37 mph), also pedestrians who are on a potential collision course with the car.

Photo Comparison
2016 Mercedes-Benz S-Class Coupe
Related Comparisons
Comments