2017 Jaguar F-Pace vs 2016 Land Rover Range Rover Sport
Jaguar F-Pace Press Release Highlights
Photo Comparison
The F-PACE is a five seater and features a spacious, luxurious interior which utilizes premium materials, craftsmanship and meticulous attention to detail that gives every Jaguar vehicle its unique sense of occasion. The F-PACE is the latest Jaguar model, alongside the XE and XF, to benefit from the brand's aluminum monocoques. In conjunction with the brand's Lightweight Aluminum Architecture, new features such as the composite tailgate, magnesium cross-car beam and front-end carrier contribute to its outstanding driving dynamics.

Powertrain

• 3.0l V6 340hp
• 3.0L supercharged gasoline V6 380hp
• Torque-on-demand all-wheel drive system
• Both variants are matched to eight-speed automatic transmissions and all-wheel drive.
• The 380hp engine is exclusive to the F-PACE S models - 0-60mph in 5.1 seconds
• Electronically-limited top speed of 155mph.
• Later in 2016, a 180hp four cylinder Ingenium diesel engine will also be added. All-aluminum 2.0-liter engine produces 180hp and 317 lb.ft. of torque.
• All six-cylinder engines are paired with the 8-speed 8HP70 transmission.

Chassis

• Double-wishbone front and Integral Link rear suspension
• Electric Power Assisted Steering (EPAS) system - features a variable steering ratio – as standard
• Aluminum is used almost exclusively to make the suspension as light as possible
• Torque Vectoring by Braking - can apply finely-metered braking to the inner wheels to mitigate understeer during corner entry.
• All models feature monotube dampers as standard.
• Available Adaptive Dynamics - designed to provide continuously variable damping to suit the conditions
• Jaguar Adaptive Surface Response (AdSR) technology. AdSR automatically adapts the maps of the throttle, transmission and DSC system according to the type of surface to maximize traction in a variety of conditions.

Technology

• Stereo Camera Technologies - forward-facing stereo camera – provides a 3D view of the road ahead
• Adaptive Cruise Control with Queue Assist - will maintain a safe distance from the vehicle in front, all the way down to a standstill.
• Blind Spot Monitor and Reverse Traffic Detection - medium-range sensors warn the driver of other vehicles approaching fast from behind.
• Park Assist - semi-automated park assist functions for parallel and perpendicular parking maneuvers.
• Standard Jaguar InControl® Touch™ infotainment system - 8-inch capacitive touchscreen
• With navigation fitted to the vehicle - SD card storage of navigation data. Maps are rendered in 2D and 3D graphics. Turn-by-turn instructions can also be shown in the optional head-up display
• Optional Jaguar InControl® Touch Pro infotainment system - quad-core processor, a high-speed 60GB solid-state drive (SSD) and an ultra-fast Ethernet network
• Jaguar InControl® Touch Pro infotainment system - features a 10.2-inch touch-screen, no buttons; all controls are integrated into the bottom section of the touch-screen
• Commute Mode - learns an owner's daily drive so that it can offer alternative routes to avoid congestion using historical and real-time traffic information.
• Approach Mode - adds a 360-deg interactive view of your destination alongside the map display when you're approximately 656-ft (200m away)
• InControl Touch Pro™ is offered in conjunction with a Meridian® 17-speaker, 825W surround sound system
• Jaguar's Activity Key - waterproof, shockproof wristband with an integrated transponder - allows the keyfob to be securely locked inside the vehicle, has no battery, so owners never have to worry about changing it.
• Jaguar InControl® Apps™ - enables drivers to access apps on Android™ and Apple® smartphones
• The F-PACE can be equipped to also function as a Wi-Fi hotspot, hosting up to eight devices simultaneously with a paid data plan
• Jaguar InControl® Remote™ functionality allows users of iOS® and Android™ smartphones to connect to the car remotely to control car functions

Safety

• All Surface Progress Control (ASPC) - delivers a step-change in capability by controlling the throttle and brakes. Standard on all engines.
• Low Traction Launch - changes the throttle map to one which results in a very progressive torque response from the engine, enabling the driver to pull away smoothly. Standard on all engines.
• Autonomous Emergency Braking (AEB) systems - determines that a collision with a vehicle or a pedestrian is imminent, it is designed to initiate full braking automatically.
• Lane Departure Warning (LDW) and Lane Keep Assist (LKA)
• Driver Condition Monitoring system - will show a multi-stage warning in the instrument cluster and give audible warnings to prompt the driver to take a break.
• Traffic Sign Recognition (TSR) system - uses the stereo camera to keep the driver informed of the speed limit
• Intelligent Speed Limiter (ISL) - if the TSR system recognizes a higher speed limit ahead, the ISL system is designed to notify the driver and the vehicle can accelerate smoothly up to the new limit. If the speed limit is lower, the vehicle can be slowed down accordingly.
• InControl Protect™ will automatically notify the emergency services and provide the GPS location.
Pricing and Range Summary
The all-new F-PACE range will consist of: F-PACE, F-PACE Premium, F-PACE Prestige, F-PACE R-Sport, F-PACE S and F-PACE First Edition. The powertrain range will consist of a 180hp 2.0-liter Ingenium diesel as well as 340hp and 380hp 3.0-liter V6 gas variants priced from $40,990, $42,390 and $56,700 respectively.

Land Rover Press Release Highlights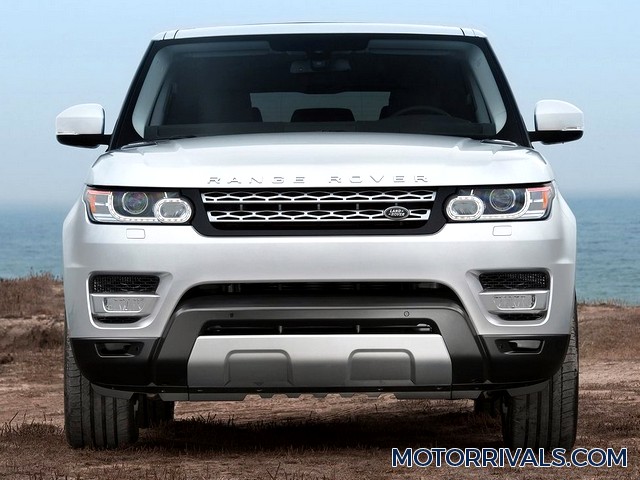 Photo Comparison
The all-new Land Rover Range Rover Sport occupies a unique position within its segment, and the new model builds on those core strengths with a design which confirms its status as the definitive premium Sports SUV. With its 'faster' windscreen angle, streamlined profile and sloping roofline, the new Sport is 8 percent more aerodynamic than the previous model and achieves a drag figure of Cd 0.34. The all-new Range Rover Sport benefits from 75 percent unique parts. The vehicle's state-of-the-art aluminium monocoque platform is 39 percent lighter than the previous model's steel semi-monocoque plus chassis frame design.

Powertrain

• The new Range Rover Sport offers a choice of two full-time intelligent 4WD systems
• 510PS 5.0-litre V8 supercharged engine - 0-60mph time of sub-5.0 seconds (0.9 seconds faster than the outgoing model)
• 340PS 3.0-litre V6 supercharged engine - 0-60mph in 6.9 seconds, a reduction of 0.3 seconds.
• 4.4-litre 339PS SDV8 diesel - 0-60mph in 6.5 seconds.
• High-efficiency diesel Hybrid - 0-60mph in sub 7-seconds
• ZF 8HP70 8-speed automatic

Chassis

• New lightweight suspension - primarily constructed from lightweight aluminium components, with wide-spaced double-wishbones at the front and an advanced multi-link layout at the rear.
• Next-generation four-corner air suspension - air springs now offer variable ride height.
• Dynamic Active Rear Locking Differential - features an electronically controlled differential which can vary the degree of lock-up almost instantaneously
• Torque Vectoring by Braking - uses the car's brake system to imitate the effect of a torque vectoring differential
• Dynamic Stability Control (DSC) module - monitors the vehicle 100 times per second
• All-new Electric Power Assisted Steering (EPAS) system - features variable-ratio speed-sensitive assistance.
• Terrain Response® 2 - features an Auto setting. Able to switch completely automatically between the five settings: General, Grass/Gravel/Snow, Mud/Ruts, Sand and Rock Crawl.
• Wade Sensing™ - uses sensors in the door mirrors to provide the driver with information when driving through water
• Hill Descent Control (HDC), Gradient Release Control (GRC), Hill Start Assist (HSA), Dynamic Stability Control (DSC), Electronic Traction Control (ETC), and Roll Stability Control (RSC).

Technology

• 12.3-inch high-resolution display technology for the main instrument pack
• 8-inch high-resolution touchscreen display on the centre console for infotainment and secondary functions, with optional Dual View.
• Where the 12.3-inch screen is not specified, vehicles feature sporty twin analogue dials with a central 5-inch colour display.
• Optional Head-Up Display – uses laser technology
• Lane Departure Warning
• Traffic Sign Recognition - uses the camera to identify traffic signs providing the driver with information about the latest detected speed limit, cancellation signs and overtaking regulations.
• Automatic High Beam Assist - switches the headlamps automatically between high and dipped beam
• Flank Guard - which helps alert the driver to potential impacts on the sides of the vehicle during tight maneuvers
• Adaptive Cruise Control (ACC) - operates even when the vehicle is travelling slowly or is stationary.
• Blind Spot Monitoring - uses side-mounted radar sensors to survey potential blind spots either side of the vehicle
• Closing Vehicle Sensing - new feature to detect vehicles which are closing quickly from behind
• Reverse Traffic Detection - uses radar detectors in the rear of the car to warn about potential collisions during reversing maneuvers
• Adjustable Speed Limiter Device - enables the driver to set their own personal maximum speed
• Surround Camera System incorporating T-Junction view, Trailer reverse park guidance and Trailer hitch guidance, and Adaptive Xenon headlamps.
• Park Assist - which helps to identify a suitable parallel parking space, and then automatically steers the vehicle into place
• Park Exit - which helps drivers exit tight parallel parking spaces, by automatically steering the vehicle back into the main carriageway
• Perpendicular Park - which extends the function of the system to help the driver to reverse into perpendicular spaces, using sensors to help identify a suitable space where the vehicle can be parked and the doors on each side opened safely
• Emergency Call, Land Rover Assist Call, InControl App, Stolen Vehicle Tracking

Safety

• Dynamic Stability Control (DSC)
• Roll Stability Control (RSC)
• Electronic Traction Control (ETC)
• Trailer Stability Assist (TSA)
• Hill Descent Control (HDC) and Gradient Release Control (GRC)
• Hill Start Assist (HSA)
• Engine Drag torque Control (EDC)
• Anti-lock braking system (ABS)
• Electronic brake force distribution (EBD)
• Emergency brake lights (EBL)
• Emergency brake assist (EBA)
• Corner Brake Control (CBC)
• The occupant safety package includes driver and passenger airbags, side curtain and thorax airbags (including an extended curtain airbag which covers passengers occupying the third row seats), and active front seat belts linked to the vehicle's emergency braking functions.

Photo Comparison
Land Rover Range Rover Sport
Related Comparisons
Comments