2016 Volvo XC90 vs 2016 Land Rover Range Rover Sport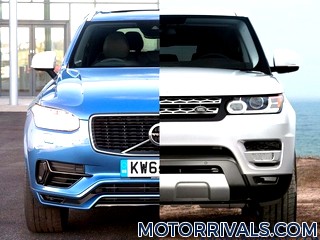 Photo Comparison
Press Release:
Months of speculation ended today after Volvo Cars unveiled its all-new Volvo XC90, delivering on its promise to introduce a visually striking, premium quality seven-seat SUV with world leading safety features, new powertrain technologies, an unrivalled combination of power and fuel efficiency and a superlative interior finish.
Three years in the making and part of a USD 11bn investment programme, the new XC90 marks the beginning of a new chapter in Volvo's history, capturing its future design direction, incorporating its own range of new technologies and utilising its new Scalable Product Architecture (SPA) technology.
"This is one of the most important days in our history. We are not just launching a car, but re-launching our brand. This day marks a new era for our company. The XC90 paves the way for a portfolio of exciting new cars to come in the following years," said Håkan Samuelsson, President and CEO of Volvo Car Group.
Photo Comparison
Related Comparisons
Comments