2015 Lexus RC F vs 2015 BMW M4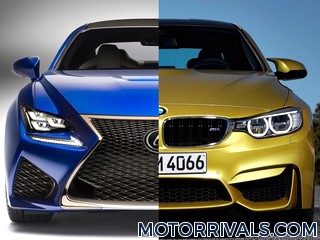 Photo Comparison
Press Release:
In 2007, the F brand launched with IS F, a super sedan that catapulted the Lexus brand onto tracks and into driving purists' hearts with a specially built 416 horsepower V8, track-tuned chassis and street-dominating attitude.
Then came the Lexus LFA, a V10-powered supercar that sent a 552 hp, carbon-fiber shockwave through the world's top sports car echelon.
Production of both models has ended, but the ripples from their impacts continue, bubbling up through the next F model, the 2015 RC F. The F strikes again.
Developed alongside the stunning new RC sports coupe, the RC F is the most powerful Lexus V8 performance car ever. It's a jolt to the eyes with a more striking version of the RC body outfitted with wider wheels and tires, an active rear wing, air scoops, cooling ducts and available carbon fiber body features components. In the rear, the RC F features functional stacked exhaust tailpipes that make it even more distinctive.
And the RC F is a jolt to the spine with a new 467-horsepower version of the F-tuned 5.0-liter V8, backed up by a close-ratio eight-speed Sports Program Direct Shift transmission and available Torque Vectoring Differential.
The "F" stands for Fuji Speedway, where Lexus conducts much of its high-speed development. It could also stand for fun, as defined by three key elements: response, a continuous-acceleration feeling, and a sound that excites.
Notably, Fuji Speedway isn't the only track that's witnessed the wailing engine or howling tires of the RC F prototypes. The RC F spent much time lapping the Nürburgring Nordschleife, as clandestine shots by noted spy photographers can attest.
And so it should be no surprise that Lexus developed the RC F to excel on the track as well as the road. Body rigidity, suspension, brakes, tires and all other systems were developed with the expectation that RC F owners would be taking their cars to track day events.
There, they will enjoy the way the car's electronically enhanced driveline, based on Lexus' Vehicle Dynamic Integrated Management (VDIM), enables average drivers to get closer to limits previously attainable only by trained professionals. The same systems offer even greater levels of active safety on the road.
There will be racing. Lexus is negotiating with the world governing body of motorsport, the Federation Internationale Automobile (FIA), to homologate the RC F for the FIA European GT3 championship in 2015. (Lexus will not field a factory team but will support private entrants.)
Photo Comparison
Related Comparisons
Comments