2014 Mercedes-Benz CLA-Class vs 2014 Audi A3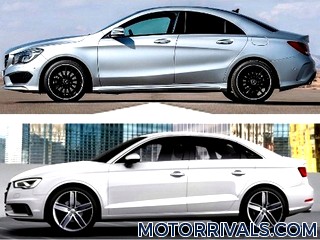 Photo Comparison
Mercedes-Benz Press Release:
Mercedes-Benz is expanding its lineup with the all-new 2014 CLA-Class. The new four-door coupe is a style rebel that takes its design cues from the CLS, whose design concept has inspired more than its fair share of imitators since its debut in Detroit in 2003. This brand new vehicle features world-leading aerodynamics, avant-garde coupe design and with 4MATIC all-wheel drive (available Spring 2014). With its frameless doors, the four-door coupe seamlessly carries the design of the Concept Style Coupe into series production. The new model features COLLISION PREVENTION ASSIST as a standard feature. At speeds above 4 mph, this radar-based braking system is able to warn the driver of obstacles and to anticipate braking force when the driver steps on the brake pedal. The all-new 2014 CLA250 arrives in U.S. dealerships Fall 2013.
"The response to the Concept Style Coupe was overwhelming. The most frequent comment by far was 'Please put this car into series production.' That's precisely what we are doing now," notes Dr Dieter Zetsche, Chairman of the Board of Management for Daimler AG and Head of Mercedes-Benz Cars. "The CLA is a car that does not confuse 'mid-size´ with 'mid-quality'. Its sporty design underscores the sporty side of the Mercedes-Benz brand."
The sporty CLA comes with a powerful turbocharged engine generating 208 hp and 258 lb-ft of torque, as well as sport suspension and available 4MATIC all- wheel drive. The technical highlights of this new design icon include a new world record in aerodynamics for series production automobiles (Cd value: 0.23) and a wide range of driver assistance systems, including advanced COLLISION PREVENTION ASSIST.
This radar-based assistance system provides the driver with visual and acoustic warnings of identified obstacles and primes Brake Assist for adaptive braking. Brake Assist is initiated as soon as the driver steps hard on the brake pedal. When the system identifies a risk of collision, COLLISION PREVENTION ASSIST calculates the precise braking force ideally needed to avoid an accident and makes the best possible use of any distance remaining. Adaptive Braking Assist activates at speeds of just 4 mph and gives trailing vehicles as much time as possible to also react accordingly and avoid another accident.
Photo Comparison
Related Comparisons
Comments